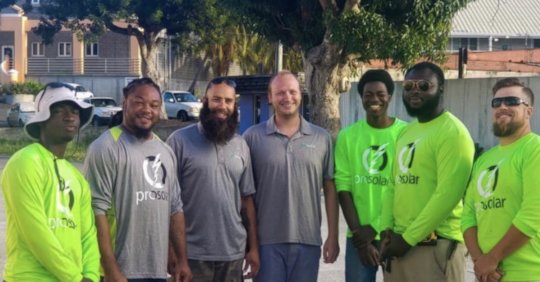 New Systems and the Caribbean Assistance and Resilience Effort (CARE) Fund
In 2017, when category 5 Hurricanes Irma and Maria hit the Virgin Islands, we knew that full recovery would be long and that the world would not wait for us to rebuild before the next storm. And so, as our friends and partners at GlobalGiving know, St. Croix Foundation began the work. We collected data, networked our nonprofits, built holistic programming, and launched initiatives spanning workforce development, energy independence, food security – and perhaps most impactful, capacity building for nonprofits.
Another hurricane season came and went, and we sighed in collective relief that 2018 had given us a little more time to rebuild – and then Covid-19 hit the world. For the Virgin Islands, an unincorporated territory whose story is often overlooked, the stakes could not be higher. It is a reminder to us all that resilience is about more than hurricane preparedness; it is about institutionalizing civic power into our societies so that the innovation, passion, and nimbleness of people are leveraged for the resiliency we all aspire to reach.
Together, GlobalGiving and St. Croix Foundation have built a partnership rooted in a collective aim of nurturing healthy, resilient communities. One week ago, the Virgin Islands and coastal communities throughout the world went on high alert as we entered into the 2020 hurricane season, which is projected to be more active than average. From hurricanes to economic recessions and now, a global pandemic, the call of philanthropy has never changed for us: get on the ground, nurture enduring relationships with nonprofits to understand needs, and devise targeted solutions. Through our CARE Fund, the Foundation will continue to serve, to innovate old systems, build new ones, and share our stories of progress.
6 Young People Hired, Community Center Solarized, Countless Residents Impacted
For an initiative designed to achieve multiple objectives, our Solar-Supported Community Center and Workforce Development Initiative represents a philanthropic story of opportunity, resilience, capacity building, and collaboration.
The Foundation believes that to engage disenfranchised youth, to provide the skills necessary for them to take advantage of opportunity, we recognized that we would have to make space for them. So, we did!
What began as a project to solarize community centers throughout the island of St. Croix became a multi-layered initiative in which we embedded workforce development, nonprofit capacity building, and energy independence.
Today, six young adults, the first cohort of certified solar installers in the Territory, have completed a 6-month National Center for Construction Education and Research (NCCER) course! Prior to the Covid-19 lockdown, three students had been hired, and the remaining students are in line to being hired by a local installation company. We check in with our students and are working with them on smaller projects to keep the momentum of their career going - and where there was once resignation, there is now hope for a real future. That's opportunity.
In our past reports, we've given you a lot of data. We have detailed the rigor of the instruction our students underwent and described the curriculum that included soft skills as well as technical skill-building. We told you that they completed over 400 hours of class time, and we showed you the smile of a young man whose life was changed. You learned of the impact our solar initiative would have on community centers, such as saving over 40% on utility costs annually. You heard that the Caribbean Center for Boys and Girls, our first center to receive this innovative grant of a full solar system, serves over 100 students a day and is located in one of our most economically disadvantaged neighborhoods. They have agreed to reprogram utility savings into enhanced services. The ripple impact on children and families is almost unquantifiable. And in another demonstration of civic collaboration and capacity building, every center we solarize has agreed to serve as a resilience hub during grey skies, providing energy access, communications, and invaluable community services. This is what a story of resilience and capacity building looks like – on an individual, organizational, and community level!
Through the support of our strategic philanthropic partners, like GlobalGiving and the Center for Disaster Philanthropy, St. Croix Foundation was able to conduct strategic grantmaking that is providing full solar systems and paying student stipends for On-the-Job training. Locally, the partnership of each community center builds capacity to serve hundreds, if not thousands of residents. In the public sector, the VI Department of Labor's Workforce Investment Board underwrote instructor salaries and student books, supplies, tools, and classroom stipends. And through the support of local corporate citizens, we were able to fill in the final funding gaps and provide actual job opportunities to students once the course was completed.
Having secured funds for the first three centers, we are working hard to find partners for our fourth center and a second cohort of NCCER students.
Mobilizing Civic Power through AmeriCorps VISTA Volunteers
Just as St. Croix Foundation was gearing up for additional recruitment to build our 15-member AmeriCorps VISTA team, Covid-19 forced our community to go into lockdown. However, the project has been nimble where possible, and we are now hosting 6 VISTAs. Despite challenges surrounding the pandemic, VISTAs continue to work to support the Caribbean Center for Boys and Girls of the VI, St. Croix Long Term Recovery Group, and Virgin Islands Good Food Coalition.
One of our VISTAs works with the St. Croix Long Term Recovery group on increasing funding for the Unmet Needs Committee, who provides disaster recovery assistance to St. Croix residents who have nowhere else to turn. Having joined the team in February, this VISTA is an engineer who shifted to education and nonprofits to learn more about her community while serving at the same time. In just her first month, she has already submitted her first grant for the St. Croix Long Term Recovery Group. One of the reasons the VISTA program is so beneficial (around the globe) is because each VISTA brings a new personality, a new perspective, and a new approach. VISTA is a mutually beneficial program because, as one volunteer says:
"It is inspiring to see the incredible hearts of all of the staff and their desire to make a positive impact in the community they serve. They are excellent examples of what a Servant Leader's heart looks like.I'm enjoying being that compassionate bridge between a need in my community and available assistance that helps people get to a better place in life with dignity. I also love scuba diving. I have an Advanced Open Water certification, with the hopes of one day becoming a Master SCUBA Diver."
To the Foundation, this is testimony that civic power is strong in our community and programs like VISTA mobilize voice, skill, and passion for people.
VISTAs are also provided training, and two attended the AmeriCorps VISTA In-Service Training on March 3-6, 2020, in Philadelphia, Pennsylvania. They joined a community of over 200 VISTA volunteers from 25 states for a 3 ½ day, in-person training and skills-building opportunity designed for VISTA members in their first few months of service. The training offers learning on service-related topics, practical skill development, and networking opportunities. Sessions covered various topics such as Capacity Building: The Heart of VISTA, Empowering the Community, Recruiting and Placing Volunteers and Creating and Maintaining Successful Partnerships. As part of providing a holistic experience, the Foundation will also be offering VISTA training and experiences in grant research, website development, and cultural sensitivity.
While Covid-19 has delayed recruitment, the Foundation is working toward having all VISTAs in place by the end of September. Thanks to housing stipends provided by GlobalGiving, the Foundation will be able to offer a package that gives local and visiting VISTAs a valuable experience in place-based philanthropy. Our VISTA initiative is about building a system of strong nonprofits to support our community through any trial.
Healing through the Humanities: The Alexander Theater Take the Stage
Sunday Market Square is a very special space on St. Croix, once a designated convening space where enslaved Crucians were allowed to trade goods, connect with loved ones, and socialize in the marketplace on Sundays- their only day off from work. Through the years, Sunday Market Square remained a popular meeting place for residents of St. Croix through the 1900s. Today, St. Croix Foundation's headquarters are located in the Square right next to the Alexander Theater. The Territory's first indoor movie house, the Alexander Theater served as a center of economic activity in Christiansted town from the mid-1950s and operated until 1989 when it sustained catastrophic damage from Hurricane Hugo and then again in 1995 from Hurricane Marilyn.
The Theater was acquired by the Foundation in 1998 and has been a core component of the Foundation's longstanding vision for the revitalization of the Square ever since. Today, the renovation and retrofit of the Alexander Theater represents a thriving social, cultural, and economic opportunity for St. Croix.
St. Croix Foundation leverages every project for multiple impacts. In May of 2019, the Foundation was approved for a Phase 1 FEMA Hazard Mitigation grant, which will enable us to renovate and retrofit the Alexander Theater. During blue skies, the Alexander Theater will serve as a performing arts center and convening space, helping to transform the Square into the epicenter of culture, arts, and economic development it once was. What's more, it will function as the only disaster safe room and shelter in Christiansted for nearby residents and tourists visiting nearby hotels at the time of a disaster. The Theater and adjacent buildings will be built to FEMA disaster safe room standards and will be used during times of crisis for years to come. This facility will have the capacity to house 300 or more people safely and will serve as a disaster supply distribution site when our community needs us most.
Phase 1 of the project is currently underway, and the Foundation is working closely with our public sector partners to develop this one-of-a-kind facility that operates at the intersection of arts, culture, economic development, and disaster preparedness. We anticipate breaking ground on construction in 2021.After Phase 1, the project is eligible for up to $10.9 million in Phase 2 funding from FEMA to complete the disaster safe house.
The federal funding for this project is a reimbursable grant, which requires that the Foundation to spend operating funds to cover eligible project expenses before they are reimbursed by FEMA. A Revolving fund has been established to support the Alexander Theater project enabling us to draw down federal funds. Revolving funds will not only cover reimbursable expenses but will enable the Foundation to cover project expenses that are not eligible for reimbursement including Theater specific equipment. Once completed, the revolving funds will be reprogrammed to high impact initiatives for the people of our community and the nonprofits who serve them – initiatives just like this.
The Alexander Theater Restoration and Disaster Shelter Retrofit epitomizes the St. Croix Foundation's approach to holistic community development. Together with our community and supporters, we are leveraging the power of philanthropy to strengthen and transform our community. How do you push old, inequitable systems out? At the Foundation, we believe the answer is to invest in new systems of innovation, resilience, and the power of community.
Farm Tiendas in Operation!
The story of our Farm Tiendas is near and dear to our heart because it is another innovative system made possible by collaboration and very creative grantmaking that links small business development with food security.
When St. Croix's small-business farmers were devasted by the 2017 hurricanes, it wasn't a quick recovery: crops were lost, and an entire growing season was delayed -- or abandoned as in the case of some of our farmers. But today, after a grant that provided seven farmers each with a durable steel container to serve as a farm stands, our farmers are stronger than ever before. Six are already serving the public, and solar and WiFi will soon be installed, providing each farmer with resources to serve their communities in blue skies and in grey.
One St. Croix farmer, the owner of GLG Farm, is an example of what strategic grantmaking means to the Foundation. Before the hurricane, GLG Farm was participating in Wednesday and Sunday Farmers Markets at the La Reine and South Gate Markets, and he also had a shed on his property used a roadside stand to sell his produce and roasted corn. When the hurricanes hit, GLG Farm was ravaged, he lost all the crops in his field and lost the trailer that was used for storage of equipment and his roadside farm stand. But, thanks to Coca-Cola One, Cruzan Rum, and GlobalGiving, GLG is now back online. They are holding regular hours again and have expanded service to later hours thanks to the solar lights installed on the outside of the unit. Our farmers say it best though:
"Extremely grateful that there are people working to support farmers in our community!" ~ GLG Farm
'Thanks to St. Croix Foundation, my business has regained critical infrastructure that will allow us to stabilize and expand. We simply couldn't have done it without you, and we pledge to be the resilient community hub our island needs and to pour passion into food security for all." ~ Sejah Farm
Due to delays surrounding Covid-19, Farm Tiendas will be solarized in June and data collection on how the Farm Tiendas function will become the priority of this initiative.
Just the beginning…
In just three months, St. Croix Foundation will celebrate its 30th Anniversary. What we have learned over the three decades of service is this: that holistic community development, driven by place-based philanthropy high impact civic partnerships and innovative systems can be built. Through our deepening competencies around disaster philanthropy and fully engaged strategic partners like GlobalGiving, we are building a field of practice that can serve as a model for remote, underserved communities everywhere!