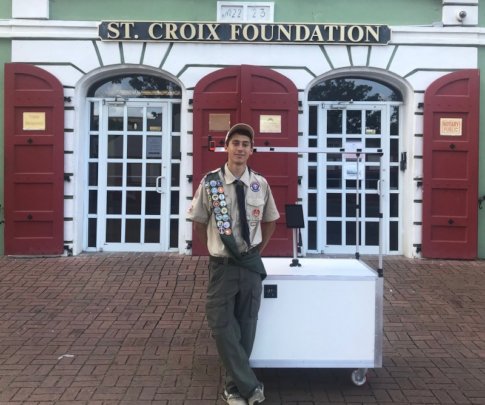 The month of September was another huge milestone for the people of the U.S. Virgin Islands and so many coastal communities. Together, we marked three years since Hurricanes Maria and Irma hit the islands in 2017. We've accomplished much. But the realities of Covid-19 while we await the ending of the 2020 Hurricane Season remind us of the complex vulnerabilities of a predominantly Black, isolated American Island 'territory' (i.e. Colony) with no vote. Those vulnerabilities make us work even harder at St. Croix Foundation because we know that the stakes are high. And we also know that our vision of a safe and thriving Virgin Islands is possible.
In this report, you'll read about the potential we have tapped in our young people. You'll read about the undauntable spirit of farmers whose businesses are getting a new boost and volunteers who carry the passion of community and motivate civic engagement. And behind all of this are the partners that make the impossible possible. Thank you to our friends and family at GlobalGiving. You are testimony that together we can (and do) make a difference.
100% Full-time Employment for Workforce Development Students
At a time in history when unemployment rates are at an all-time high, our Solar-Supported Community Center and Workforce Development Initiative represents a philanthropic triumph that can serve as a community model all over the globe. Beyond providing an opportunity to rebuild more sustainably and resilient in the aftermath of historic Hurricanes Irma and Maria, the program's ultimate goal of providing a high-quality workforce training opportunity for unemployed youth has been fully achieved and the model is proven.
Today, we are pleased to report that in just one year, ALL nine students in our program (100% of our graduates) have received national certification in solar installation and ALL are now fully employed in their field of study. We also want to share recent news that two participants have been promoted to Team Lead, and one is training in Tesla power walls. As the first cohort of solar students in the Territory, they also installed the first solar system on the Caribbean Center for Boys and Girls of the Virgin Islands.
Since the Solar-Supported Community Center Project was officially launched in June 2019, we've been keeping you updated on the progress of our students and the outcomes of our strategic grantmaking of a solar PV system to community centers around the island. We are also delighted that, through GlobalGiving funding, the solar system for Flambouyant Gardens for Senior Assisted Living has been procured and, despite delays surrounding Covid-19, is scheduled for installation on October 12, 2020. Located mid-island on St. Croix and serving 56 senior residents, the center was chosen based on its response to the 2017 hurricanes, the population it serves, and where it is located on the island.
The Foundation will be tapping our solar workforce students to conduct the final installation after comprehensive inspections on Flambouyant Gardens has been completed and modifications have been determined. Given the circumstances surrounding Covid-19, the Foundation is taking extra steps to ensure compatibility between the system and the center for smooth installation.
This pilot Initiative has proven that demand exists in the Virgin Islands for a local, skilled workforce in green energy, as is evidenced by our hire rate to date. And, as most of St. Croix Foundation's projects, the Solar-Supported Community Center and Workforce Development Initiative is designed to serve as a model for how to nurture relevant workforce development that builds capacity for resilience and energy independence. Working closely with our first solarized center, the Foundation projects to have data on usage and savings to share.
As one of the few occupations expected to see exponential growth throughout the Caribbean, there is significant pressure on the Foundation to replicate this program with a new cohort of students. While this was our initial intention, the realities of Covid and the cost of running the program with fidelity have forced us to put a temporary pause on opening a 2nd cycle.
Grantee Update: Nurturing Capacity in the Next Generation
Last November, we reported on the work of one of our grantees, a graduating senior who had invented a solar charging station in the wake of the 2017 Hurricanes. Kieran, one of our CARE Fund grantees and partners, wanted to build a prototype of the station for his community that would also fulfill a requirement for his final and rigorous service project to graduate as an Eagle Scout.
Designed to be mobilized throughout neighborhoods during times of crisis, the station can be used to charge phones, radios, and any medical equipment such as insulin testers that are rechargeable. Not only did Kieran build it, but he presented his working prototype to an audience of 300 at the 2019 Coconut Festival, designed a brochure, and created a video on how to build the self-sufficient, solar-powered, weather-resistant satellite communication hotspot and charging station. He also taught youth from the local community center how to build the stations to ensure this exploratory project's sustainability.
Today, we are incredibly happy to report that we've recently heard from Kieran, and he has received his final badge and is an official Eagle Scout. This is a difficult challenge and requires a total of 21 merit badges. Kieran's work didn't just impress the Foundation - it was also showcased on the official Eagle Scout pagehere: https://eagleprojects.boyslife.org/solar-satellite-solution/
As an example of the Foundation's strategic grantmaking, this is a special grant with almost unlimited leverage points – from youth skills and leadership development to nurturing public awareness and resilience building.
Next Steps for Farm Tiendas as Resilience Hubs
As another example of the Foundation's strategic grantmaking and programming, you may recall that we granted 7 durable steel containers to farmers to serve as "Farm Tiendas" or farm stands to help stabilize their business and serve as a resilience hub during grey skies. Despite continued delays surrounding Covid-19, we are happy to report that we have been able to pivot as necessary to keep activating components of this initiative while also ensuring the safety of all participants.
To date, all containers have been delivered and all are in full operation! While we had to postpone solarizing the Farm Tiendas due to Covid-19, all systems have arrived, and installation will begin in October. Additionally, all farmers have met with an engineer who has provided a comprehensive report on the steps needed to secure Farm Tiendas, in each unique location, for the long-term. The Foundation has also provided tie-down kits and rust spray as an extra level of protection during the 2020 hurricane season, a value of $4200 to each farmer. Over the summer, each farmer also received a water buffalo with a capacity to store 1000 gallons during blue and grey skies.
As a side note, we would be remiss to not mention that our contracted engineer, Kareem, was one of the first members of the Foundation's Youth Advisory Council- a youth leadership development body of high school students launched in 2009. Today, Kareem is a Mechanical Engineer and living demonstration of the impact of our holistic approach to philanthropy and community development.
The Farm Tienda is yet another economic and resilience model that the Foundation is tracking – how it was developed, lessons learned, and how to leverage local resources for measurable outcomes around food security The Foundation looks forward to the next phase, during which Farm Tiendas will be solarized and data collection on how the Farm Tiendas function will become a priority.
AmeriCorps VISTAS Making Connections for Preparedness
In past reports, St. Croix Foundation has reported to you on the exciting program to bring 15 VISTA volunteers to serve nonprofits on St. Croix. This is boots-on-the-ground support for nonprofits, who are working over capacity to serve a community with increased needs, that has a tangible impact. Once again, due to Covid-19, our recruitment and placement schedule was interrupted. However, the Foundation has successfully recruited and assigned 6 AmeriCorps VISTA members to support 4 nonprofit organizations: Caribbean Center for Boys and Girls of the VI, St. Croix Long Term Recovery Groups, Virgin Islands Good Food Coalition, and St. Croix Landmarks Society. The early stages of recruiting were challenging, but each organization has been determined to utilize this opportunity to drive change in their respective organizations.
Thanks to a generous grant from GlobalGiving's Cruzan Island Spirit Fund to help subsidize housing costs for our volunteers, we continue our quest to recruit 8 more members and a VISTA leader. With assistance from FEMA, St. Croix Foundation was able to secure a booth and collect names of interested volunteers for the AmeriCorps VISTA program. There were over 500 attendees at this event. SCF also applied and received support for the U.S. Dept of Interior: Office of Insular Affairs. This support focuses on training and technical support for VISTAs. St. Croix Foundation has also been working with FEMA as they developed the Community Response Plan (CRP). In May VISTAs received training on how to use the recovery tool. And despite Covid-19, our VISTAS are connecting with each other, their community, and the broader field of philanthropy.
One of our VISTA volunteers for the St. Croix Long Term Recovery Group, Rosalie, epitomizes the spirit of AmeriCorps VISTAs and the Virgin Islands. A local resident, cancer survivor, and senior volunteer, Rosalie was previously supporting LTRG with recruiting volunteers for housing rebuilds but had to switch roles due to Covid-19. Today, she is conducting surveys for the St. Croix Community Response Plan. Rosalie is one of the biggest advocates for the AmeriCorps VISTA program. In addition to her work with LTRG she continues to share the available VISTA opportunities with young people at the American Red Cross and has presented to the St. Croix Retiree Association, Virgin Islands VOAD, as well as the St. Croix COAD Executive, Youth, and Unmet Needs Committees. She also presents at monthly Town Halls, where she is a champion to engage more local VISTAs, citing obvious benefits to the local residents on the individual and community level.
Starting with Community…
Despite being an unendowed, small community foundation serving an under-served, under-resourced community, Hurricanes Irma and Maria afforded St. Croix Foundation the opportunity to demonstrate the worth and impact of our philanthropic approach. Having just celebrated our 30th anniversary this past September, our leadership journey is one we believe can inform burgeoning philanthropies in developing communities around the world. Over the past three decades, St. Croix Foundation has learned a lot. Principally, that there is abundance amid scarcity and that often the assets we are searching for are untapped gems in our own communities. To learn more about our approach, we invite you to read our President's 30th Anniversary Message at http://www.stxfoundation.org/a-message-from-the-president-on-the-foundations-30th-anniversary/