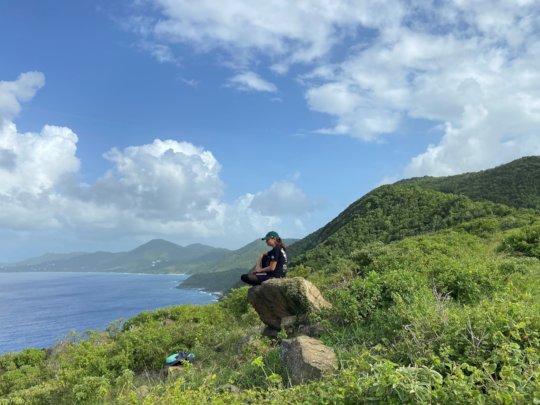 Today, as we usher in the year 2021, we are delighted to report that initiatives we launched in response to catastrophic hurricanes Maria and Irma are thriving. They are thriving because they are based in community, in place, and as such are relevant and therefore sustainable. Whether it's around energy independence, food security, small business growth, workforce development, or nonprofit capacity support, St. Croix Foundation is investing in our People and our Place.
Together with our incredible GlobalGiving family and a network of civic, private, and public partners, we have successfully created equitable pathways for accessing basic services and resources for historically underrepresented populations. Together we are nurturing resilience in underserved communities and supporting often-overlooked components of our stakeholder community: farmers. Ultimately, together we are proving the power of place-based philanthropy!
Solarizing Centers and Workforce Development: WE DID IT!
In our last report, we told you about the successes of our Solar-Supported Community Center and Workforce Development Initiative:
The development of a green energy workforce with the graduation of the Territory's first cohort of 9 nationally certified solar installers – all of whom are now fully employed in the field.
The creation of a grantmaking model that nurtures community resilience through solarizing community centers serving vulnerable populations (children and the elderly) in remote locations.
Today, we can say that the Initiative is complete! Thanks to GlobalGiving funding, the solar system for Flambouyant Gardens has been installed! As of December 2020, this center, located mid-island and serving 56 senior citizens, is now fortified with a solar system. During blue skies, the center will save approximately 60% of its overhead and has pledged to reinvest their savings into programming for the center. During grey skies, the center will be a mid-island, resiliency hub for residents in nearby neighborhoods, providing a place to charge phones or store medication. Just like the Caribbean Center for Boys and Girls, Flamboyant Gardens has committed to tracking its savings and reporting on usage to help monitor the return on investments, both qualitative and quantitative.
What's next? As part of our mission, St. Croix Foundation is a "a catalyst for change." Seeking to build upon this progressive Resiliency Model and the momentum of the work, St. Croix prepared comprehensive comments for our local Community Development Block Grant Disaster Recovery Program, which were submitted by one of our nonprofit partners, St. Croix Long Term Recovery Group, to support the expansion of a more comprehensive phase of our Solar Project in the amount of $9.25 Million.
Having incubated this high-impact program for several years, the Foundation has been very intentional in identifying a committed civic partner – and a sustainable funding source – to lead and maintain the work moving forward, for the long-term. If the comments are approved, the project is expected to serve 150 young people and solarize and harden 25 community centers. These comments were submitted to encourage the Territory to incorporate the solar project's expansion into the CDBG-DR action plan currently under development.
Farmers Receive Awards to Fortify Farm Tiendas
The Foundation is pleased to report that our Farm Tienda Initiative has already proven its worth! As we reported last October, all 7 Farm Tiendas are in operation and are serving our public through COVID-19 safely, supporting neighborhoods with fresh food as commercial supply chains slow and access through schools is limited.
Today, with all Farm Tiendas stabilized for hurricane season and outfitted with water buffalos, our next step is to solarize every Tienda for energy independence. During grey skies, solar units will enable farmers to assist their neighborhood with basics such as electricity, water, and of course, fresh food.
One of the elements the Foundation considered when selecting farms that would receive a Tienda Grant was location. Our main objective was to ensure accurate coverage of isolated communities, but in addition to this, the Foundation has sought to gather data on the utility Farm Tiendas themselves. What we have learned is that each farmer requires additional fortification of their Farm Tienda to reach its full potential of serving the community.
To allow our farmers the flexibility necessary to enhance their infrastructure, in mid-January, St. Croix Foundation, in partnership with Tides Foundation, awarded each farmer a $1000 mini-grant – a total of $7,000. Funds will support new shelving units, stainless steel tables, point-of-sale systems like cash registers, and fans to keep the space cool.
Community Building
In St. Croix Foundation's October 2020 Farm Tienda Survey, all respondents reported that the Farm Tiendas had streamlined their operations. As a prime objective of the Initiative, the Foundation is eager to continue tracking this. But beyond the economics, community-building was another priority. Today, we are happy to report that Farm Tiendas are expanding opportunities for community-building. One farmer stated that "our area is further away than most from groceries, so the increase in access to fresh food for our neighborhood has been amazing. We are meeting all kinds of neighbors we never knew before, and they are meeting each other. I think the site has a lot of room for expansion."
AmeriCorps VISTAS: Serving through Covid-19
The key to success is often the ability to pivot (or pause) as needed. In the time of Covid-19, our family at GlobalGiving has been integral to our ability to keep projects moving that may have otherwise been unsustainable.
Today, we are happy to report that the St. Croix VISTA Team has been approved for its second year. It is a milestone to be renewed for another year of this three-year program. This was approved because, despite issues surrounding Covid-19, six VISTAs are currently serving five organizations: St. Croix Foundation, Caribbean Center for Boys and Girls of the Virgin Islands, St. Croix Long Term Recovery Group, St. Croix Landmarks Society, and the Virgin Islands Good Food Coalition. These organizations represent the heart of resilience: youth, culture, food security, and long-term capacity-building for resilience.
St. Croix Foundation and partners are also pleased to see the VISTA Team continue to grow. As our VISTAs started in the 3rd quarter of 2019, just before a global pandemic hit the world. This temporarily paused our recruiting efforts while we ensured that our VISTAs felt safe and whole during this time. Two of our VISTAs returned to their hometown, and the remainder sheltered in place. As each VISTA adjusted to these challenging times, St. Croix Foundation increased the number of individual and group check-ins to twice a month from bi-monthly meetings to assure all program concerns were addressed. During this time, two non-local VISTAs did complete their service term for VISTA and provided great support to our nonprofits. One developed a community outreach and marketing plan, and the other helped foster new agriculture partners to collaborate with on projects.
Thanks to the generous grant from GlobalGiving's Cruzan Island Spirit Fund to help subsidize our volunteers' housing costs, we continue our quest to recruit 8 more members. In recognition of St. Croix's isolated geographical location, the Foundation's recruitment outreach emphasizes opportunities to connect virtually with other VISTA members and the community, while serving on an island with low case numbers and many opportunities to be in open-air spaces.
Two non-local VISTAs are currently serving the St. Croix team: one VISTA has decided to continue her service from her home state due to Covid-19, and one VISTA is serving on the island of St. Croix. The VISTA serving St. Croix Foundation decided to join the Team on the island from Tampa, Florida. Victoria, our newest recruit, recently completed her Master's in International Development in Geneva, Switzerland and was eager for the opportunity to serve on St. Croix. The Foundation is excited to have her on board to assist with funding research and organization development, and she has already assisted with developing a formal Letter of Inquiry for one our largest fundraising efforts to date. As one of our original goals, VISTA members were to receive a holistic experience, and Victoria has been able to explore the island by hiking and assisting local farmers safely.
Victoria shared, "My first weekend on St. Croix, we went on a hike to overlook the island's beautiful coastline. I felt excited to start my VISTA experience and learn more about the community I would be serving." Having this VISTA join in October 2020 and safely transition to the island has boosted morale for the Team and shown that non-local recruitment is still possible at this time.
Keeping Doors Open for Resilience with $65,000 in Grants to Nonprofits
As you heard last year, in response to Covid-19, St. Croix Foundation relaunched the CARE Fund as a permanent Fund, providing support for a targeted response to COVID-19 and any other disaster we may face. Today, as our community joins the world in a global fight to combat COVID-19, the CARE Fund is already supporting the people of the U.S. Virgin Islands in several priority areas as a conduit (not a container) of resources. Our priorities include: (1) Nonprofit operating support (Open Doors), (2) Programming support for frontline responders, (3) Data collection and reporting, and (4) Direct programming to build resilience and new systems.
As a core resilience strategy, the Foundation first turned to our civic organizations still on the front line. Prioritizing the stabilization of essential local nonprofit organizations that are playing a critical role in serving and supporting the most vulnerable populations directly or indirectly impacted by the current COVID-19 pandemic, in November of 2020, SCF awarded $65,000 to the following organizations through our Open Doors Grant:
Lutheran Social Services: Access to PPE and nursing care
Caribbean Museum Center for the Arts: "Art at Home" virtual arts programming for youth
Crucian Heritage and Nature Tourism, Inc.: operational support
Caribbean Center for Boys and Girls of the Virgin Islands: Virtual academic tutoring
St. Croix Long Term Recovery Group: Crisis Preparedness Kits
St. Croix Montessori: Performance Arts Program
World Ocean School: STEM programming
FYR is LIT: Academic tutoring and youth leadership development
St. Croix Environmental Association: Environmental education program
Music in Motion School of Higher Dance Education: operational support
Virgin Islands Good Food Coalition (food security): operational support
Clean Sweep Frederiksted: Community engagement plan, economic development
Liberty Place: "Community First!" shelter for rehabilitation
Once again, these organizations, also members of the Foundation's Nonprofit Consortium, represent every sector of a healthy community, from arts and culture to economic development and youth and education. By utilizing a holistic approach to sustainable recovery, the Foundation's work through our CARE Fund will leverage scarce community resources and provide strategic rebuilding that will serve the community into the future.
NYCT partnership with Puerto Rico on Resiliency Lessons Learned
In the aftermath of the storms, St. Croix Foundation for Community Development is focused on work that supports long-term sustainability and resilience. As in so many other coastal communities, in the Virgin Islands, sustainability and resiliency are not just words, but imperatives for our residents' future. Acutely aware that as an isolated island community, the Territory must look beyond theory and put into practice community-based initiatives that will advance our recovery priorities of energy independence, economic resiliency, nonprofit stability, workforce development, and overall community self-sufficiency.
Our goal is to share learnings stemmed from the experiences lived by our communities after hurricane María and the most recent earthquakes in Puerto Rico. Our objective is to convene three organizations from St. Croix and three organizations from Puerto Rico. As St. Croix Foundation and Puerto Rico Community Foundation both have commonalities, not only in the way we are structured but in our areas of focus (especially after the recent emergencies), we seek to collaborate and learn from each other's experience.
We envision having exchanges in Puerto Rico during May and in St. Croix during October. A document should stem from these exchanges – Quick Reference Report on Caribbean Community Resilience (QRRCCR) that will contain community savvy strategies that could be referenced in the case of future natural events impacting islands. We will evaluate participants' experience and satisfaction with each peer learning exchange, and we'll monitor any generated collaboration. They will also become a tangible and visual mechanism to highlight the peer learning exchange results and following conversations.
Starting with Community…
As a place-based community foundation, St. Croix Foundation has weathered many storms right alongside the people of the U.S. Virgin Islands. From hurricanes to national and global economic recessions and now, the COVID-19 pandemic, the call of philanthropy has never changed for us: get on the ground, nurture enduring relationships with nonprofits to understand needs, and devise targeted solutions. With GlobalGiving, we've been able to hit the ground running. Thank you for making so much possible.