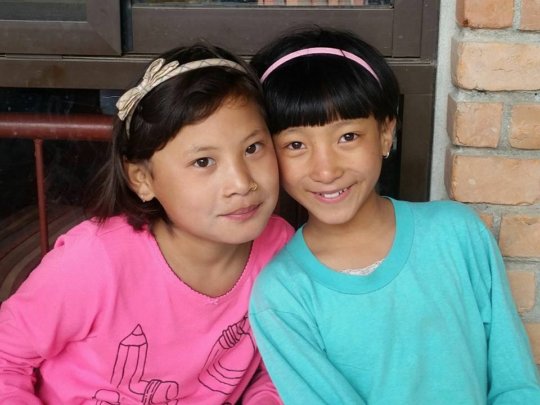 On Monday, April 25, it will be one full year after the devastating 7.8 level earthquake of 2015. We want to thank everyone at GlobalGiving and all of our donors for the tremendous support we've received from you since that terrible day. In this report, we'll share the story of our progress through the eyes of an individual child - but we would be remiss if we told you that life is back to "normal"... in some ways, perhaps it never will be.
Maya came to Ama Ghar five years ago as a tiny four year old girl who had been abandoned in the remote trails of the Himalayas. At that time, she and her small sisters Rekha and Bina, who arrived shortly after she did, were the much fussed-over bright little girls who entertained us with their dancing, singing and imitations of their older brothers and sisters - they were the "three musketeers" who enjoyed their family position as the youngest and the cutest of them all.
Then on April 25, 2015, life changed forever. Maya and her sisters were helping their house mother Uma to pick potatoes from the Ama Ghar garden when suddenly "the potatoes started jumping" as a result of a giant earthquake. As you know, everyone at Ama Ghar survived unscathed, as did our home. But the trauma of feeling the earth moving around them was enough to make everyone fearful - the whole family slept outside for several weeks and every aftershock set off new terrors.
To make things even worse for Maya, a large group of new young children, who had lost their homes and families in the earthquake, began to arrive at Ama Ghar. Everyone's attention was focused on ensuring the comfort of the new arrivals, and suddenly Maya had to become a Big Sister. It wasn't an easy transition, but with the help of some of the older children, she slowly began to relish her role as the leader of the younger children. She helped with the assembly of hygiene kits that were distributed to people in the earthquake refugee camps and began to assist the 13 new children with their adjustment to the family - it was a big moment in her personal development.
Today, Maya revels in her leadership position. Although April 25 is a terrible anniversary, it marks the beginning of Maya's transition from baby sister to a compassionate and supportive young girl, who is helping her family members to forget their nightmares and frightening memories and to adjust to new schools, new friends and a new life.
Thanks to your contributions to the Displaced Childrens' Fund, that transition is happening, one child at a time.
Links: