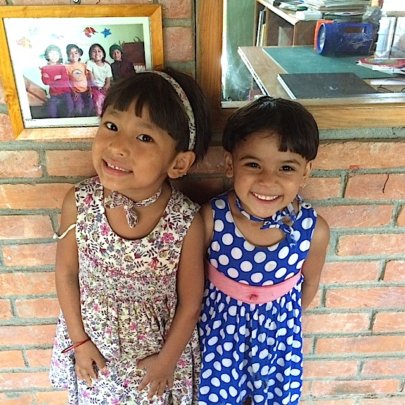 Leela, who is now four years old, came to us almost exactly a year ago, at the end of 2015. She lost her family in the devastating earthquakes of that year and arrived at Ama Ghar as a frightened and lonely little girl. Gradually, through the mentoring of the older children, nutritious food, nurturing care from medical professionals and mostly the love and hugs from her extended family here, she became the little Leela that we know today... an affectionate, sweet-natured and fun-loving girl.
Now Leela wants to participate in everything we do at Ama Ghar - from helping her aunties and uncles on the staff with chores while the older children are off at school to playing games and sports to dancing, singing and making art. One of her special joys, though, is creating special clothes and toys out of the donations we receive for the children. Other than their school uniforms, the Ama Ghar children only have a few clothes, all of which are donated by our friends around the world. In the spring, the donations are washed and set out so that the children can choose two play outfits and one dress outfit that will fit them for the spring/summer season; in the fall, these are turned in and the children do the same for winter.
But that wasn't enough for Leela, our budding artist and fashion designer - she and her best friend at Ama Ghar, Nirjala, used the belts from their spring dresses to make headbands, bracelets and belts. They also make toys out of rubber bands, string and cardboard that we keep in our craft closet.
Leela particularly enjoys spending time with the visitors who join us at Ama Ghar from around the world - she shows them how to do chores like rice planting and gardening, teaches them games and serves as a tiny tour guide who walks them around our beautiful valley. One of the many benefits to Leela is that she is learning English and other languages from our visitors, which will help her when she starts school next year. And we think there's a benefit to visitors as well - Leela is an inspiration to them, as she gets such joy from small things... a lesson for us all.
Your donations make it possible for Leela to have a happy, healthy childhood - thanks for your generosity and compassion. You inspire us, too!
Links: