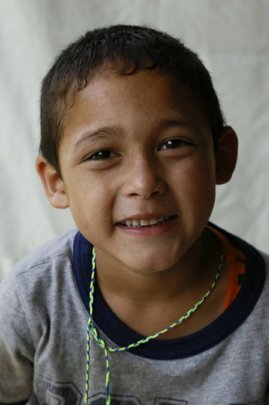 As a member of our donor family, you know that children come to Ama Ghar for many reasons - natural disasters like earthquakes and floods, drug and alcohol abuse on the part of parents, extreme poverty, malnutrition - but one of the saddest of reasons is child trafficking. According to The Times of India, child trafficking over the Nepal-India border has risen 500% between 2013 and 2017. Children are lured from their parents with promises of a better life, then often sold into slavery to work in factories, or, in the case of young girls, sold into brothels.
Akshar was trafficked to India at the age of five and was working in a factory there until he was seven. At that point he was rescued by an anti-trafficking organization and sent to Ama Ghar by Nepal's child welfare authorities. When he arrived, he didn't remember his family or where he is from.
This type of experience can be incredibly traumatic and scarring, but it seems to have turned Akshar into a very keen observer of everything around him. He is very astute about people and situations - to a degree far beyond his age. He has been taken under the wings of his brothers and now enjoys playing games in the field before school, swinging from our Nepali "ping" (a bamboo swing) and participating in music and dance.
Remarkably, this bright little boy has maintained his sunny nature - he is always the first to run to Bonnie Auntie for a hug when he gets home from school. He was very excited to start school and is doing very well, especially considering that he had to catch up with the rest of his class - he had never received any schooling prior to his arrival here. Now he is learning to read in both Nepali and English, and he is learning to speak English so that he can communicate with the visitors whose company he enjoys.
Because he now receives excellent health care, a good education, nutritious meals and the love of his family, Akshar will have the opportunity to make a productive life for himself. Our commitment is that all of our children will be educated to the highest level of their ability, either through higher education or vocational training and that some day he will be able to be a self-supporting citizen of Nepal.
Thank you for your commitment to helping us make that happen.
Links: