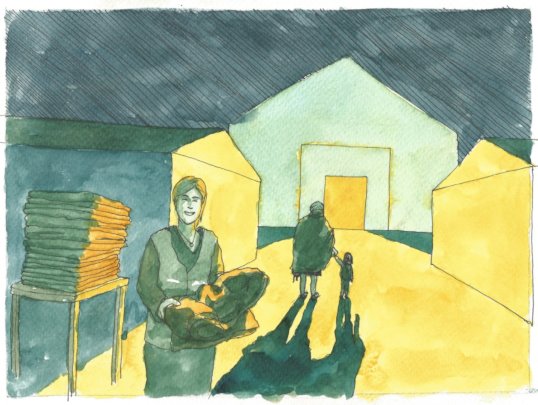 At the end of 2019, we looked back on a year of growth, while anticipating that 2020 would bring with it new challenges we would soon face. Indeed, the first few months of this year have tested our operations, pushed us to constantly adapt, and spurred the scaling up of our operations. From drastically increased needs in Ritsona Camp, ongoing arrivals amidst cold weather, and the closure of a crucial transit facility on Lesvos, and flooding of our spaces in Ritsona, our teams have tackled these challenges head-on.
Before we delve into the changes of the New Year, we look back on 2019, a whirlwind of activity and growth for our operations. Over the course of 2019, our teams on Lesvos assisted 14,531 people arriving to the north shore of the island - more than double the number of people whom we supported last year. Half of those arriving were under the age of 18, with 948 making the dangerous journey alone. Throughout this busy year, our team led 365 operations and our spotting volunteers identified 125 boats arriving to the north shore, enabling a fast and efficient response from our landing team. Meanwhile in Ritsona Refugee Camp in the mainland of Greece, we continued to be a source of consistent, reliable psychosocial support, building on our strong relationships with the community. Our teams there hosted 50-60 children in the Child Friendly Space every day, and 75-100 people in our bustling Youth Engagement Space, embarking on several creative projects with the youth and strengthening our sports offerings for all ages.
Today on Lesvos, people continue to arrive despite the bitter cold and strong winds. In the first month of 2020 our teams provided a warm welcome to 834 people. At the end of January, however, we received the alarming news that Stage 2, the last transit facility on the island of Lesvos, would close by the end of the month. Stage 2 was a crucial support structure, where we offered warmth, shelter, dry clothes, and a chance to recover for people making the harrowing journey to Greece. The closure of Stage 2 has left our teams rapidly adapting to the new operational context - we have shifted our operations to ensure that people arriving can still receive the same support at the landing scene. To do this, our distribution team is deployed at landings, with a van full of clothing, dry food and blankets. We are determined and always ready to continue providing emergency support to people fleeing conflict and persecution, and we continue to adapt our operations to offer as much support as we can in the ever-changing circumstances.
The impact of the situation on the Aegean islands is also felt acutely on the mainland, in Ritsona Camp. In the first month of 2020, Ritsona Camp received over 1,500 new residents, many transferred from Moria Camp on Lesvos, and Vathy Camp on Samos. During that time, our spaces faced significant flooding, and our team rapidly mobilised to recover the spaces, striving to make them safe and inviting.
Among the new arrivals, there are 700-800 children who are not able to access formal education until the autumn of 2020. As they wait for the next step of their asylum procedures, it is more important than ever to offer them the opportunity to participate in psychosocial activities. Today, our numbers in Ritsona are higher than ever - our Child Friendly Space is welcoming over 100 children to programming everyday, while the Youth Engagement Space is welcoming over 135 people every day. Our CFS team is adapting their programming to ensure that we can respond to these increased needs, offering activities such as crafts, including watercolouring, drawing and structured play.
Now, with increased numbers in the YES, we are offering a wide range of language workshops and skills workshops, ensuring that we have a diverse range of options to offer the growing population of the camp. One of these workshops is a music-writing workshop, in which one of our volunteers leads a collaborative music writing project with youth, intermingling different voices, languages and perspectives. By the end of the month of February, 600 more people are expected to be transferred to Ritsona Camp, and we are committed to ensuring that everyone can access psychosocial support in our spaces.
Despite the many shifts we have witnessed over the past month, we persevere in our commitment to people arriving to Lesvos, and people waiting on the mainland of Greece. Today, the need for solidarity and support are truly greater than ever. Without your help, we simply would not have been able to adapt and strengthen our operations to respond to these increased needs - for this, and much more, thank you!