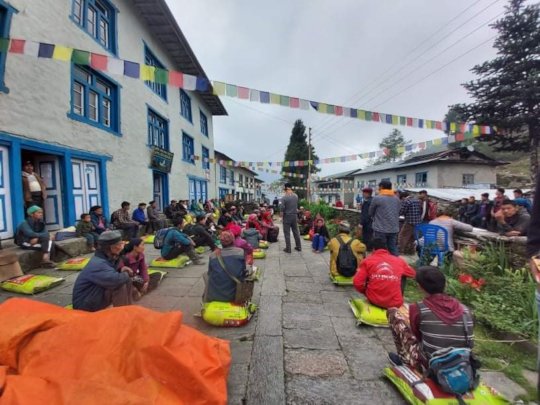 Dear Small World's Family & Friends, Namaste !
We believe, Covid-19 is affecting everyone's way of life globally and even harder challenging has been facing here in Nepal. It's been over 50 days of lockdown. So far, 273 people are reported as positive for the virus, but thousands more are facing a much larger issue. Already marginalized communities that depend on daily wages are now facing the largest challenge: hunger due to lockdown. Pregnant women and young children are hardest hit by this. Recently, UNICEF warned that "over 4,000 children may die in Nepal in the next 6 months due to lockdown."
In the First Phase of our outreach effort, The Small World, in coordination with local governments (for transparency and to prevent duplication) has provided basic support to the communities we've worked with for the last 14 years; these supplies, which include rice, lentils, soap, oil, and baby food, have to date benefited over 2,000 families for 15 days.
We also continue to take care of our 35 girls in the Hope Home in Kathmandu and 40 girls for higher education in Solukhumbhu, along with our hundreds of sponsored children.
The Small World working Himalayan communities are becoming more vulnerable due to high altitude; mostly just one season crops are growing. In general, people depend on seasonal trekking to work as porters, traveling for construction work, etc., but now all doors are closed with the COVID lockdown.
Marginalized communities in remote villages rely on our support now more than ever. To deliver the support is a challenge in itself in this crisis, but we are not giving up. We will continue to support these communities as much as possible through immediate response. This is possible because, as a local organization, The Small World team can reach them faster, their situations are well known to us, and we closely coordinate with local authorities to make bigger impacts on the ground and work together to get through this difficult situation.
We are also deeply concerned for long term support, especially for continuing children's education. Our staffs are working hard to provide a safe place to live with free quality education for those who are orphans and at risk, vulnerable children. However, their continuing education, which is already endangered, will certainly be in jeopardy after this pandemic, which could last for many weeks or even months. If you wish to support a child by sponsoring yearly $1000 per child which help to cover meals, education & all necessary support for a child.
This project has deep connections and bonds with local community members and the area's culture and geography. We are working together with local community members to protect and educate children as well as deepen their relationship and respect for their people, culture and land; in essence, during their education, they are not alienated from their social background, language, or culture. In fact, they are given support to value it.
We're doing everything possible to sustain daily operations and provide services to these remote communities. While there's a lot of uncertainty, we know that we need to adapt as quickly as possible to our changing reality. Now, more than ever, our communities need us. And we need you.
In times like this, we're reminded of how interconnected we all are. Thank you for being part of our community. Without you, none of it is possible.
Stay safe and well,
Karma Sherpa