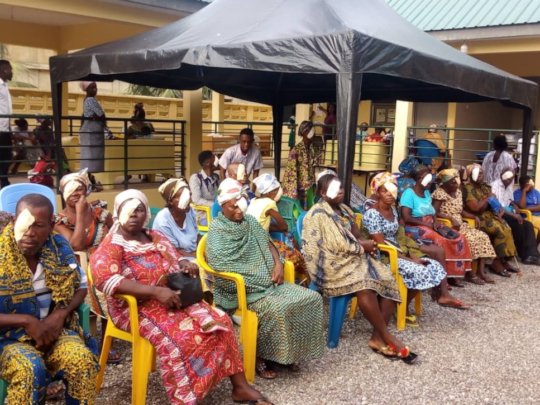 One of HCP's newest partners in Ghana, Cape Coast Teaching Hospital (CCTH), forever changed the lives of nearly 200 people.
At the end of July, CCTH held a three day bus-in event where they provided 183 surgeries. The interdisciplinary team, led by Drs. Benedicta Appiah-Thomspon, Sylvia Brookman, and Sarpong Abrebrese, provided quality eye care, building on their experience over the past six months as well as their recent participation in specialized training - Expanding Access to High Quality Eye Care in West Africa: Clinical Skills and Outreach Management Training (for more information about this training, click here).
Already this year, CCTH has hosted two cataract campaigns and participated in another resulting in 940 surgeries. Applying new knowledge and enhanced skills gleaned from training events, CCTH is looking forward to celebrating World Sight Day in October by hosting their next high volume cataract surgery campaign, where they anticipate providing 500 surgeries. With HCP's overall goal of supporting 10,000 surgeries at outreach events throughout Ghana this year, CCTH is well positioned to make a significant contribution to the alleviation of the curable blindness backlog in the country.
Two August events in the North and South of Ethiopia restored sight to over 2,000 patients in under two weeks.

HCP is partnered with institutions across a broad geographic and cultural spectrum of Ethiopia that are working to provide high-quality, low-cost cataract surgeries to patients of all ages and backgrounds. In August, these partners along with support from a small international contingent, were successful in running back-to-back campaigns in nearly opposite corners of the country. By utilizing the capable medical staff in the two facilities and transporting materials and people on the 2-day journey from South to North with the help of a truly tenacious driver, HCP is happy to report that the vision of 2,086 individuals has been restored.

The first outreach event took place in Arba Minch, located approximately 500 kilometers south of Addis Ababa in the Gama Gofa Zone of the southern region of Ethiopia. Between August 4th and 9th, HCP's co-founder, Dr. Geoff Tabin, Affiliated Ophthalmologist, Dr. Huck Holz, and local partners Dr. Dawit Geidey from Arba Minch and Dr. Daniel Getenah of Wolaita, worked together to complete 1,580 surgeries, 1,408 of which were for cataracts. The outreach proved to be a resounding success for both patients and doctors. The doctors used the opportunity of coming together to teach techniques, learn from experience, and celebrate successes including 3 of the doctors individually performing more surgeries within a day than their previous best- highlighting how hands-on mentoring at these events not only help patients, but also help doctors to become more efficient and effective in the operating theater.

When the surgeries and post-surgical work was completed in Arba Minch, the team mobilized to travel across Ethiopia by land and air in order to reach Axum in the Tigray Region in time to greet patients and begin their second series of surgeries. Between August 12th and 15th, Dr. Geoff Tabin, new HCP International Fellow Dr. John Hinkle, and local partners Dr. Tesfalem Hagos from Axum, Dr. Abera Chane from Gondar, and Dr. Yonas Mitiku from Mekelle, worked together to complete 868 surgeries, 678 of which were for cataracts. Axum, a city rooted in deep history and tradition in the northern highlands of Ethiopia, greeted members of the campaign with open arms throughout their time in the region. Especially gratifying were the number of pediatric surgeries performed for children who had experienced significant eye trauma. The on-the-ground HCP team, led by Country Representative Dr. Liknaw Adamu, ensured that patients were well cared for, logistics were in order, and everything was moving efficiently during the outreaches. HCP's Teketel Mathiwos provided logistical support, Abreham Haddis ensured that medical devices were working effectively, and Meseret Fantahun and Tigist Gelashe worked with medical staff to check post-op visual acuity and share experiences while HCP volunteer and surgical nurse, James Garrett provided teaching, mentoring, humor and feedback to all!
Links:
Meet Khadga, an 80 year old man who received sight-restoring surgery at a cataract outreach event in Ramechhap Nepal, organized by the Tilganga Institute of Ophthalmology with support from the Himalayan Cataract Project. Accompanied by his only son, Khadga traveled three hours on a very bumpy road to Ramechhap initially for a foot injury. Unbeknownst to Khadga, who was blind in both eyes from cataracts, and his son, a cataract outreach event was happening at the hospital simultaneously.
Blind for the past six years, Khadga was elated to hear he could have his sight restored saying, "how soon can we do it, this would change my life in so many ways." Due to his blindness and foot injury, Khadga said he had sat in a room in complete darkness for about six months - trapped by his blindness.
When asked what he was looking forward to most Khadga said, "I could do everything again! I would be independent and my family would be unburdened. I could go outside again, and I can't wait to see my family and my village in the sunshine again."
WARNING: Javascript is currently disabled or is not available in your browser. GlobalGiving makes extensive use of Javascript and will not function properly with Javascript disabled.
Please enable Javascript
and refresh this page.