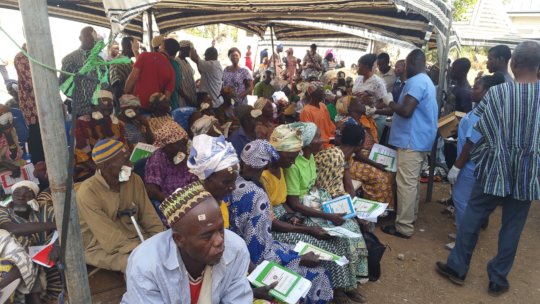 In November, HCP's Co-founder Dr. Geoff Tabin joined a team of Ghanaian ophthalmologists to perform 851 sight-restoring surgeries at the Bolgatanga Presbyterian Regional Eye Center in the Upper East region. Bolgatanga has been an HCP partner since 2017 and this is the second successful NCOP event - the first was in November 2018 and provided 484 surgeries.
Cataracts are the leading cause of low-vision and blindness in Ghana. In an effort to address the backlog and improve cataract care at the national level, the Ghana Health Service (GHS), in collaboration with HCP, began the National Cataract Outreach Program (NCOP) in 2017 and established National Guidelines to bring care to all regions. The NCOP committee, comprised of private and government service providers and NGOs, divided the country into four zones and established one leader in each to coordinate annual events.
"I am very excited about our progress in Ghana," Dr. Tabin said. "Bolgatanga is a wonderful center with an excellent lead doctor and incredible need in the area. I think it can become a high-volume center of excellence in cataract surgery and a great place for residents from both KATH and Korle-Bu."
Since NCOP's pilot phase in October 2017, 5,177 surgeries have been provided across 24 campaigns. In 2018, the NCOP completed 1,889 surgeries, and in 2019 to-date, NCOP has completed 2,501 surgeries, putting them on target for 3,000 by the end of the year.
"I'm so excited to have participated in this very successful event in Bolgatanga," Dr. Seth Lartey, consulting ophthalmic surgeon at Komfo Anokye Teaching Hospital and NCOP Zonal Leader, said. "This is a great example of what we wanted to achieve in developing the National Cataract Outreach Program in 2017 in collaboration with the Ministry of Health, which is to make high quality eye care accessible to all Ghanaians!!"
Drs. Tabin and Lartey joined two other NCOP zonal leaders, Dr. Seth Wayne and Dr. Mercy Dawson; local ophthalmologist in Bolgatanga, Dr. Lordson Dagba; and Dr. John Hinkle, HCP's Global Fellow.