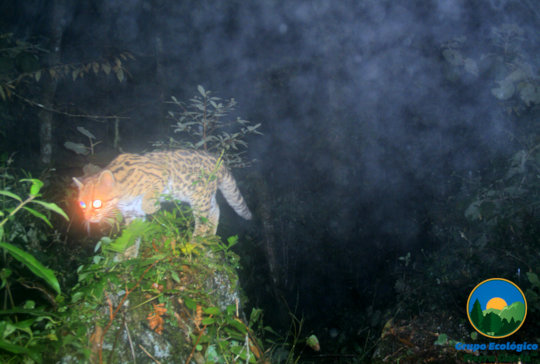 Ocelot
(Leopardus pardalis)
Ocelot populations extend from southwestern United States to Argentina. They are twice the size of the average house cat, weighing 24 – 35 pounds and reaching 35 – 44 inches from head to tail. Ernest Thompson Seton described the ocelot's coat as "the most wonderful tangle of stripes, bars, chains, spots, dots and smudges ... which look as though they were put on as the animal ran by."
Protection Status
The ocelot is considered Endangered in Mexico (Norma Oficial Mexicana 059 2010) and its numbers are declining across its entire range.
Status in the Sierra Gorda Biosphere Reserve
The ocelots play an active and dynamic part in the health of the ecosystems of the Sierra Gorda. Yet these beautiful cats have already been eliminated in most of their range by human actions such as land use change, logging, and poaching. Like other endangered species, they cannot raise their voice.
We do our best to protect them by providing them with safe habitat. Our camera traps have confirmed the presence of ocelots in the cloud and temperate forests that make up our network of private nature reserves for strict conservation, showing that our conservation measures are effective.
Help us protect your home, it's up to us to face reality and return that which we have taken from them.
Habits and Habitat
Ocelots inhabit many habitats, from mangroves to cloud forests—the fundamental features of their habitat are sufficient vegetation cover and high prey density. With these features present, ocelots are very adaptable, even to human disturbance. Unlike many cats, they are excellent swimmers.
Ocelots are solitary animals. Ocelot territories vary greatly between regions, depending on latitude and rainfall. They range from 1.4 – 17.8 sq. mi. for males and .31 – 5.79 sq. mi. for females. Female territories rarely overlap while male territories often includes those of two or three females. Nevertheless, social interaction between sexes is minimal.
Camera traps show that ocelots deposit scat in communal sites, called latrines. Because ocelots are solitary animals, this suggests that the latrines serve a social function.
Gestation lasts 79-83 days and litters contain 1-3 kittens. Females give birth in dens located in dense vegetation. Newborns open their eyes at 15-18 days, walk at 3 weeks, and leave the den to hunt at 4-6 weeks. They remain with their mother for 1.5 – 2 years before heading out to establish their own territory. The inter birth period is thought to be 2 years, coinciding with the age of independence.
These felines are resourceful hunters, preying on rabbits, rodents, armadillos, opossums, fish, frogs, birds, and insects. They have been observed following scent trails to find prey. They may also wait for prey at a certain location for 30-60 minutes, moving to a difference location if unsuccessful. When looking for prey, they walk at an approximate speed of 33m/h (0.2mph).
Threats
The greatest threat to ocelots is habitat destruction, fragmentation, and logging, which causes loss of vegetation cover and prey. Other threats include poaching for the fur or pet trade and retaliatory killings for hunting poultry.
The ocelot population was severely threatened between the 1960s and 80s when their pelts were highly valued in the international fur trade, with over 566,000 ocelot pelts sold. Luckily, protection measures and import bans were implemented, making trade illegal. Poaching continues to be a threat.
Conservation in the Sierra Gorda Biosphere Reserve
Through our widespread community environmental education program in the Sierra Gorda Biosphere Reserve, we teach the importance of respecting wild animals, encouraging residents to avoid hunting and disturbing their habitats. We also fight development and illegal logging in their territories.
The most effective measure we take is purchasing land for strict conservation. This allows us to provide this magnificent species with a safe habitat. We choose properties strategically in order to create biological corridors for ocelots and other wild animals, increasing connectivity and assuring gene flow. Your donation supports the management of these private reserves, covering park ranger salaries, equipment, and transportation.
In the face of the Sixth Extinction, we must protect their habitat and not allow human activity to drive them to extinction.
References:
http://www.catsg.org/index.php?id=88
https://en.wikipedia.org/wiki/Ocelot
https://www.nationalgeographic.com/animals/mammals/o/ocelot/
https://www.iucnredlist.org/species/11509/97212355
Sunquist, M.; Sunquist, F. (2002). "Ocelot Leopardus pardalis (Linnaeus, 1758)". Wild Cats of the World. Chicago, US: University of Chicago Press. pp. 120–129. ISBN 978-0-226-77999-7.