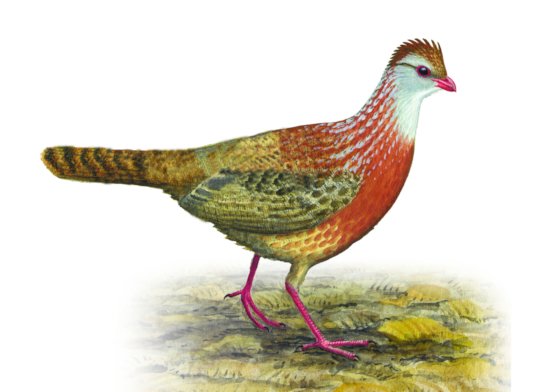 -Bearded Wood-Partridge (Chivizcoyo is the common name in Mexico)
(Dendrortyx barbatus)
The Bearded Wood-Partridge is a chicken-like bird endemic to cloud and temperate forest areas of east-central Mexico. This speedy bird is distinguishable by its silvery blue neck and head and short slightly curved beak, which makes it a specialist in eating seeds, fruits, and insects! A fantastic seed distributor, the Bearded Wood-Partridge also feeds on beans and corn so it is actively persecuted by farmers.
Threats:
Due to fragmented habitats, Mexico could lose this endemic bird and its beautiful elaborate 15 minute songs and seed dispersion skills. The bird can be considered a pest to farmers. Therefore, it is important to help incentivize the protection of this bird to farmers and protect its remaining habitat in its small distribution areas in Mexico.
Protection Status:
The Bearded Wood-Partridge is decreasing in population due to fragmented habitats. There are 3,600 known mature adults still in existence, but the bird's population has been vulnerable and declining for decades.
Status in the Sierra Gorda Biosphere Reserve:
Sierra Gorda's WildLands Project Director, Roberto Pedraza R., has spotted these rare birds in at least 40 different places on our reserve. And GESG protects populations of this species in several of the private natures reserve we run within our SGBR, providing it a true haven.
Conservation in Our Sierra Gorda Biosphere Reserve:
As mentioned earlier, we protect this bird in our Network of Natural Reserves under the supervision of GESG. This bird is abundant in the temperate and cloud forests where they are protected and still have forest corredors. This is very different to other areas where the bird is found, such as neighboring states like Hidalgo, San Luís Potosí, and Veracruz, where the forests are fractionated and its populations are isolated.
Without a doubt, effectively protecting its habitat is the best method for protecting this species. Furthermore, we need more environmental education activities and ecotourism projects that relieve pressure on forests, like those in Ejido La Trinidad, Xilitla, in San Luis Potosí State.
Habits and Habitats:
The Bearded Wood-Partridge is a non-migratory bird, meaning it does not fly to seek other lands. This means that this bird is extremely susceptible to those who see them as year-round pests. The Bearded Wood-Partridge is a very elusive bird as it tends to hide in the forest understory. Because of the birds' tendency to hide, research on its habits has been difficult to conduct. Little is known about the bird's reproductive habits. The species currently experiences a fragmented distribution due to hunting and habitat loss.
References:
https://neotropical.birds.cornell.edu/Species-Account/nb/species/bewpar1/overview
https://www.iucnredlist.org/species/22679576/92819853
Eitniear, Jack. (2008). Observing the Bearded Wood Partridge: a rare and elusive species.