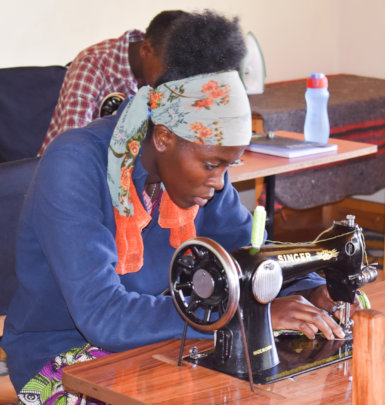 I am very excited to tell you that the young women who graduated from our one-year training course last December and choose to remain in Nakuru are doing very well in the facility that hired them. It took a month for them to learn how to make the very stylish bags and fashion accessories that the facility is making for the export market, but for the past 6 weeks, they have been paid per item produced. They're thrilled to be earning a living and becoming productive members of their society. Fourteen months ago this would have only been an impossible dream for these young women. Their families couldn't raise the money to send them to vocational training. Their futures, especially our deaf students, as marginally educated women would have been unmanageable. Our students tell us stories of childhoods where, instead of going to school, they had to walk long distances to fetch water. If they were orphaned a neighbor or relative would take them in and, instead of letting them go to school year-round, use them as house girls and childminders.
As with almost every other corner of the world, COVID-19 arrived in Kenya a little over a week ago. Fortunately, the Kenya government had ample time to prepare and acted immediately. To date, there are only 7 cases. On Monday this week, the Kenyan government announced mitigation policies to reduce the spread of COVID-19 in Kenya. It has directed all schools to close for the next 30 days, beginning immediately. Similar measures have been taken in other East African countries including Rwanda and Tanzania. My immediate worry was that, while we're a vocational training college, coming under the same mandate, sending our students home to overcrowded slums would be much worse than staying put in our facility and self-isolating until things settle down. We spoke to our area chief about the situation. Unfortunately, his hands were tied, and we were required to send the students back to their respective villages.
However, we've been given a very unexpected reprieve at the very unfortunate expense of our two volunteers from Germany, Kira, and Sara who arrived in Kenya the day before the government banned all but returning citizens and residents from entering Kenya. After spending the weekend sightseeing in Nairobi, they met up with our office manager, Beryl and traveled back to Nakuru together on a crowded minibus. The following morning Beryl mingled with our students, introduced our volunteers to our students and then learned of the government mandate to close all schools. Learning that we had two visitors from Germany staying with us, the health department put our project into quarantine for two weeks. For us, that's good news, as the students are safe for the time being. Our teacher, Martha, who is also under quarantine from home, checks in on the students daily.
As for Kira and Sara…they have taken their quarantine admirably. Sadly, visiting us was the first leg of their one year journey across Sub Sahara Africa. One a social worker and child advocate and the other an engineer, they were so excited about the contribution they could make to our students' personal empowerment, growth, and education. They have had to remain separated from our students in our guest house, with no social interaction. As soon as their two week quarantine period is over they will be returning to Germany.
As you can undoutably appreciate, this is going to be a particularly tough time for fundraising for charities and NGO's worldwide. Thank you for your ongoing support of Springs of Hope Foundation. Your support will ensure that our young women and staff can work through these issues and resume providing free, quality education as soon as it is practicable.
We will keep you updated but please do not hesitate to contact me if you have any questions at jenniferhughes@springsofhopefoundation.org
Warmest regards,
Jennifer Hughes-Bystrom
Links: