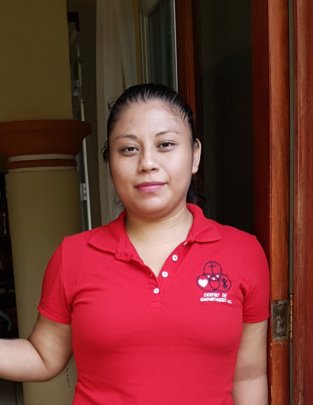 My name is Ofelia Flor Diaz Alavez. I am 26 years old and I graduated with a degree in Communication for Social Development from the Ayuuk Intercultural Institute, a Catholic College for indigenous students in my home town of Jaltepec de Candayoc, Oaxaca. I am an indigenous Mexican of Ayuuk (Mixe) descent; in my hometown we still use our native language on a daily basis as well as Spanish. I work for Centro de Compartimiento (CDC) as a housemother, living with the young women in the residential program.
In 2014 I started working at CDC. It was not an easy decision to make because I did not understand the project very well. After my first interview with CDC I thought that my job would be like most others, that is, to comply with a schedule and a list of duties. There are many boarding schools in our region for children from rural villages so I thought I understood what the job was going to be like. My second interview involved staying overnight at the house with the students and I realized then that CDC was a different type of job. CDC was less of a boarding home and more of a family. A place that not only meets the basic needs of each residential student but also where we get to know the heart of each person, their dreams and that which lies deep within.
I took the job I was excited about helping the students in their personal growth, what I did not realize was that I also needed to go through the process. The process of sharing and getting to know each other in order to heal is not easy for anyone. To teach the steps to make deep changes in their lives I also had to take them. I began without truly understanding. Sometimes I resisted, I despaired and even got angry. It took us a while to get used to each other. I was not much older than the students and it was hard to establish my authority. Some of the things I was asked to do I did not understand. Many times I wanted to leave.
I think it is easy to work with reports, software, cameras, and projects, etc., but working directly with young peoplewho have different personalities, different characters and stories is not easy. I often can not find a way to describe it. Every situationcan be a challenge when it is vital to care for the wholeness, peace and education of each student. In college we do not learn to hug. We do not learn the words to comfort a sad, angry or tired heart.I was not taught how to wipe away tears and know why "things" happen in the lives of our students. When I realized that we were more like family I began to treat the students as I would younger sisters, yet being the youngest child and only girl in my family this too was new to me but each shared moment also taught me. I learned that I too have things that I need to learn and change. The other staff members, Adela and Kristin, helped me along the path to grow, and I took the CDC Servant Leadership course for adults to understand better the ideas behind what CDC is doing.
Now I have been working for more than two years at CDC, apart from developing professional skills, I have learned different ways of relating to people, different ways of working as a team, in addition to knowing my self better. In the field of communication one is constantly involved in research, writing and witnessing social movements. We are taught to find and report the bad, unjust and corrupt. One can often feel angry and impotent. There is even danger if a journalist is not prudent with what they cover. Instead I feel very happy to be in a place where you can give good news, where, even though slow and small, steps are made to make positive change in our communities. Perhaps we do not drastically change the situation in our world, but seeing someone continue to fight for their dreams and seeing how they have grown as a person and as a citizen of thiscountry that needs us so much is the best reward. Working in CDC is a challenge every day, it also teaches me to constantly look for opportunities for service and learning.
The staff and students at CDC want to thank you for all your support this past year and wish you a very happy holiday season and blessing in this New Year. Our work is ongoing, in January the students will return for the second semester of this school year. We hope that you will consider giving again as the year draws to a close, and continue to give these wonderful young women a chance to learn, discover and grow.