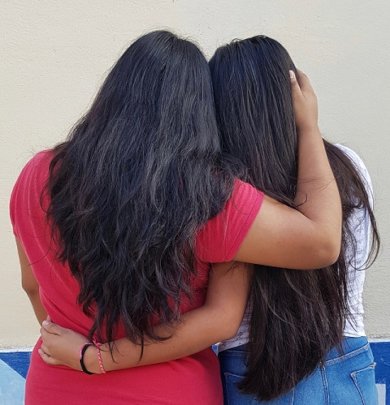 When an organization fills out a request for a grant, the grant maker always asks how many people will benefit from the program. Usually, the direct beneficiaries are easy to count. You write something like; we will have 100 students in reading circles over the next year. The next question is a bit harder, it asks about indirect beneficiaries. How many people will your program effect indirectly? With our program, we usually count the parents of our students because they will have a decreased financial burden because of the support we give in housing and food. Those numbers are hard to predict, and it is even harder to predict how people will benefit yet sometimes those effects are amazing.
The names and family data have been altered to due to the sensitive nature of events.
Elena wants to continue her college education, last month her family told her that there was no way they could come up with the money to support her, even with the help of Centro de Compartimiento. It would not be impossible find someone to give Elena a scholarship to cover the costs of her education, but we have found that it is vital to keep the family involved and responsible for their daughter's education. So we set out to help Elena look at her options. During this time one of Elena's younger sisters, Chelo, a middle school student, decided to run away with her boyfriend. Chelo is 14, her boyfriend 17. On hearing this Elena went back to her village and persuaded her parents to go and talk to her sister and bring her home. They went to the home of the young man and asked to talk to their daughter. Chelo told them she regretted her decision and wanted to return home. When they informed the young man he stated plainly, "But I have already used her." His claim was that he had already had sex with her, therefore, she was his. Virginity is extremely important in the local culture and the implication was that no one else would ever want her now. Thousands of cases of rape and sexual abuse go unreported every year because no family wants the world to know their daughter may not be a virgin.
This dilemma paralyzed the family with fear for their daughter's future, but they took her home anyway. Something, not all families will do. Then Elena suggested the unthinkable, tell even more people. "Let's go to Centro de Compartimiento, tell our story and see if they have any ideas." Amazingly they came. Elena came back with Mom, Dad, and Chelo to where she felt safe to talk about her life and the difficult issue the family faced. Mom and Dad were open enough to talk about the problem, they had nowhere else to go, no one else to talk to, no one else to trust. We were honored to sit and listen to the family and support their decision to take Chelo back.
Today Chelo is with her family and in school, the hard road is not over, it is just beginning, She has to live in her the village where people know her mistakes, of course, this is only a problem for her, not her boyfriend. As an indirect benefit of having Elena in our program, the family could recover their daughter from a situation that would normally have lead to a marriage and feel supported in their decision to break with tradition and deal with the stigma in the village for now. Chelo came last weekend to hang out with her sister and the other students Centro de Compartimiento and soak in the environment and Elena has been going home on other weekends to be with Chelo and help her. Chelo has been able to talk about the difficulties in the village and the stress in her home because of her parent's marital problems. Our only message to her, we care about you, you are loved.
An unexpected turn is that one of Elena's aunts has decided to support her to continue college, Mom and Dad agreed to try and find some extra cash as well. They were impressed at Elena's maturity and poise and decided that her decisions were sound.
We cannot tell from one year to the next where our young women are going. We can't say Chelo is home to stay and won't continue to make mistakes. We all make mistakes, hopefully, we get back on track and try again. Our project has the short-term goal of helping young women stay in school. But our long-term goal is to support them to make good decisions about their lives, in the future give back to their community. Elena is on a good track, now a mentor and example to her younger sister.
Without your support, we could not do this work. We thank you on behalf of the young women whose lives you help to improve. Over the summer we hope you think about our young women as they go home for break, and consider a donation to help with the new school year.