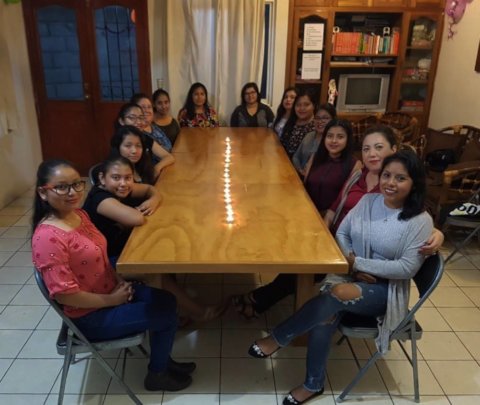 This past month we have had a lot of movement among the residential students here at Centro de Compartimiento, A.C. We had two first-year college students leave because their families could no longer pay the tuition at the private school where they had enrolled. Ada was able to finish her first semester but Nalla was not. Tuition may not seem high, it is about $100 -150 USD a month, but for families from rural areas, it is a challenge. In town, someone with a vocation, like a carpenter, mason, or electrician can pull in up from 15-20 USD a day, but most other jobs only pay around 7-12 USD a day. In rural areas most families do not have a steady income, they get a yearly sum when crops come in, eat what they grow and off-season the men leave home for day wage jobs. Most people in town and rural areas live week to week, sometimes day to day. Financial planning is almost unheard of. The two families thought they had plans to make it work, yet the expenses very quickly got out of hand, even with the support that CDC gives. We need to evaluate very early and carefully a family's plans to pay for a private school.
The two openings were advertised and filled almost immediately. Two young women, both enrolled in their first year at the Normal in Ixtepec applied to the program. Both had begun their first semester only to find that it was too expensive to rent a room and pay for their own board. As a public school, the Normal has only a few fees, no tuition. The problem is that it is controlled by Section 22 of the national teachers union. The union is powerful in Mexico and Section 22 is one of the most active and intransigent. The union in our state of Oaxaca has the power to give out permanent teaching positions in the state and in the past students from the Normal have been given positions upon graduation. This made the Normal very hard to get into and the union expects the students to join them in the marches, protests, school closings and strikes they use to pressure the state and national government. Unions are important and have a place in society, but Section 22 goes overboard, often striking just to show they can. In 2006 and 2012 they closed down the Oaxaca school system for months.
Now the Normal is reaping what it has sown as the students themselves have closed down the school, refusing to let staff in because the government has added a new fee to the national teacher certification process and the fourth year students don´t want to pay. They have invited the other students to become involved stating that it will benefit them as well. The school has been closed since December and our new students have not had classes. In the teacher's school they were teaching the wrong things; division, the power of the mob, peer pressure and much more.
Our two new students applied and were accepted into the program with the hope that the school would reopen soon. That did not happen, and there is no end in sight. One student has decided to wait out the closing at home and then perhaps reapply to our program, the second student has decided to try and transfer to another Normal in the state once the school reopens. But for now, we felt we needed to open the spaces up for other students. Our program is more than just a boarding place, between personal development courses, chore schedules, and community service, we can´t have students enrolled in our program but not staying at the house.
There are so many challenges to our young people as they struggle to get a higher education. Some problems we can help solve, but many we can not. Some times the teachings at their schools come into conflict with our own core values. It has been a hard year so far, but we have opened up two spots again and expect them to fill soon.
Without your support, we could not continue our work with our young women. We thank you for your support and asked that you consider giving a donation to support the students as we going into the spring semester.