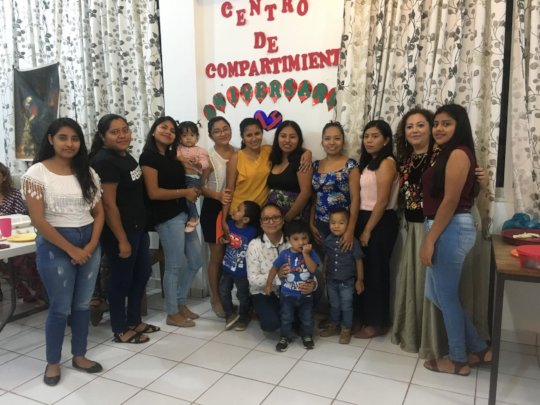 With the end of summer approaching, students are returning to school. Each year at Centro de Compartimiento means a new group of students and new challenges. Once again this year we have mostly college-age young women, but some who are also just beginning high school. As we reported in June, Aided was going to take her entrance exam to the Elta Technological Institute to study renewable energy. We were so excited when she told us that she had been accepted into the program. Then we had even more good news that the school opened a satellite campus in the town of El Espinal which is much closer to Juchitan than is Union Hidalgo. Aided asked for and was granted a change of campus and now will have fewer travel expenses.
The Centro de Compartimiento residential program is designed to provide room board and emotional support to young women who have to leave their villages to attend high school or university. The student's families continue to support their daughters with school costs, transportation, and other personal needs. The families also help our the program with occasion service projects, as the rainy season began, several of our students' fathers came in to help cut the weeds that grow fast and furious once the rains start.
Even with our support and their families, some students still need funds for the school year. Several of the students work with family members who own businesses and many local students spend the summers in Huatulco, a nearby resort town, working in small shops or hotels over the summer. This summer Heydi spent working with her uncle who designs and makes traditional regional dresses, Aided helped out in our cafe here in Juchitan and Amayrani went to work is a store in Huatulco.
As we celebrated our 14th anniversary this summer, we were once again able to connect former students with our current students. We can help and support the young women in our program but one of the greatest assets that we have as an organization is our graduates. Some of our former students still live in Juchitan or nearby, though many have moved back to their home towns to work, or moved to a big city for better opportunities. Several of those who live nearby have become friends and mentors to our current residents. We value our former students, who are great motivators for your current students. It is great for them to hear the stories of the older women who came from family and an economic situation similar to their own,
We would also like to thank you, our other great asset, with your support we have been serving young women in Southern Mexico to dream our about a different future and work toward their goals for the past fourteen years. Please visit us on our Facebook Page, Centro de Compartimiento, AC for more information and updates on the current school year.