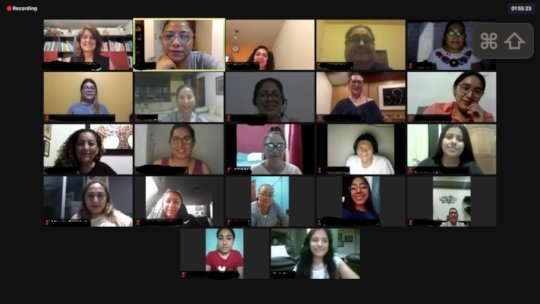 Educating is welcoming. My twenty-five years in the classroom have taught me It is important and vital that it is to welcome students, not only on the first day of school but every morning when they arrive. Welcoming them is a good way to start the day and connect with them. It also helps create an environment conducive to learning.
Welcome has to do with love, acceptance, joy, rejoicing, liking. Helps develop confidence and security to prepare the process of teaching-learning. Education and welcome are closely linked to growth, development, and transformation.
This is true with children and adults in our programs here at Centro de Compartimiento. In the case of CDC throughout our sixteen years of service, we intentionally give the welcome to each intern, woman, child, youth, or adolescent, all are received with acceptance and love. They find a place prepared for growth and healing. The same hospitality extends to all the services we offer. CDC is that space where questions our program participants can ponder deep questions and where they feel their own power to respond. This transforms into security, strength, empathy, reflection and, listening, key elements for leaders in our times.
Welcoming has been challenging during the pandemic. We have had to move our in persona programs online. Our women's group meets every Monday to read together. This spring we chose "The Book of Forgiveness" by Desmond Tutu and Mpho Tutu. We highly recommended this material. We were pleased when a group of women who have been working with us for years decided to take the leadership on this book study.
The book is full of many questions for us in our lives.
Is it possible to forgive and continue to insist that justice be done?

What steps must we take to pursue forgiveness?

How to fill all the voids in our hearts derived from the fact that we are such fragile people?
The path of forgiveness is not easy. The group learned we must go through swamps of hatred and anger, work our way through pain and loss to find acceptance. The authors propose a fourfold path of forgiveness:
This is a healing process that must be done in a trustworthy community, in a safe and courageous place, with people who are there to listen without judging, accompany without wanting to rush to advise, but rather let the pain, shame, injustice flow, the pain, the guilt. This is the kind of community that Centro de Compartimiento strives to provide to women.
Together we realized that forgiving ourselves had been the most difficult process to work through. If we really want to forgive ourselves, we have to do an honest examination of conscience and evaluate our actions and effects. People who genuinely seek forgiveness are those who want to change. They do not want to repeat mistakes of the past. To want genuine self-forgiveness you must be aware if you feel guilt, shame, regret, or remorse for something you did or allowed, that is the starting point. If you are paralyzed by feelings, acts, or situations that have occurred, this is the time to heal and free yourself, participating in a process of self-forgiveness.
Support from donors like yourself helps us engage women in the processes of healing to realize their potential as leaders in their communities. Thank you for walking with our women and supporting them in this difficult time.