" It slowly became clear that I was the only person who had to take care of my son in our house. I felt very alone and depressed at times. I always asked why I was even born but again the condition of my son made me realize that I had to continue living to take care of him."
"At first I was little irritated by the Social Worker's emphasis on building relationship with my son and hence I asked them why they needed to build a strong relationship with him. It would be more helpful if they could simply take care of him for the whole day. They replied that they could not force anyone to stay in their office. I was irritated by such arguments and I argued back telling them that my son had to be forced because he was mentally ill but social workers of Chhahari Nepal for Mental Health argued back to me stating that just because they were stronger than my son that does not mean they have rights to impose their will on him. Although I was still irritated but I was also impressed by their arguments because I felt that these social workers were willing to treat my son with respect when even his own family members never treated him with respect. Never."
" One difficulty for me right now is that I have to remember if he has taken 5-6 different types of medicine every day. In this condition I feel very much helped when social workers from Chhahari regularly phone me or come to see me and my son and remind us."
- Mother of Male CNMH client
Links: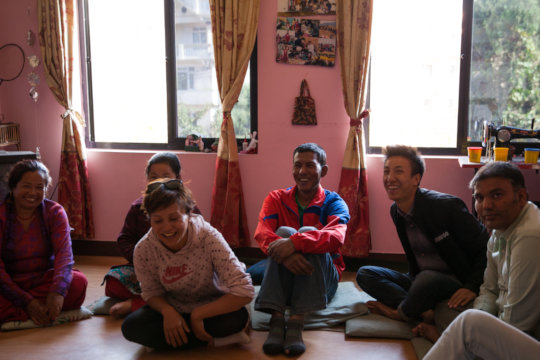 Harry is 31 years old, from Lalitpur. He lives with his parents and an elder brother. He suffers from depression and his wife left him along with their son after not knowing how to handle his mental condition. His older brother has a small vegetable business and is the sole breadwinner for the whole family making around Rs 5000 (£ 30) a month. Harry started his Bachelors in Humanities education but had to stop due to issues relating to his illness. But he is still eager to continue his studies. Upon constant follow up, we have been able to build a close relation with him and his family. With our support, he is continuing his medical treatment and he is now ready to go back to his studies.
Harry is interested in music and wants to learn to play the flute. He attends our weekly welcome centre and has shown vast improvements, interacting with the group and eagerly learning to play music. We are continuing to monitor him throughout the time of course and beyond.We firmly believe that enrolling in college will further benefit him and his social growth. Therefore with our support he is enrolled for Bachelors in Humanities course in a Government college. Government college in Nepal cost much less then private college.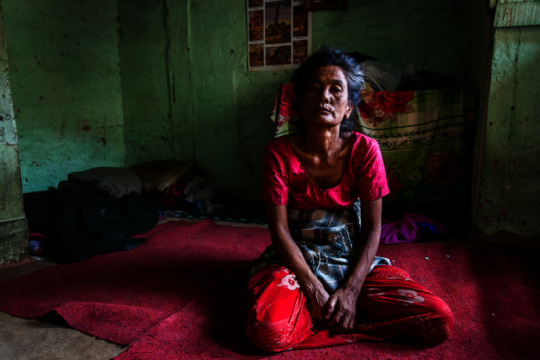 In the Nepali context one of the first aspects of poverty is the lack of purchasing power. Indeed this lack of financial resources is readily expressed to us each time by our clients and their families.Almost 90% of Chhahar's clients earn on average Rs.5,500per month ($50) and most of the families own their house. Despite this, families continue to struggle every month to make means meet. In other words, 'poverty' for these families is closer to the idea of deprivation in the sense that they cannot make means meet, rather than absolute poverty.
Sita at the Mental Hospital Lagankhel(MHL) on the day of her discharge: Some of her family were there to pick her up. Sita's mother had stayed with her daughter in the hospital for the whole period of her treatment, as MHL requires a carer in order to admit someone into the hospital. Sita's sister was in charge of picking up her sister and mother from the hospital and she mentioned to us that having to take care of her sister was very expensive.
Shyam's father, who is now too old to work, says he cannot afford his son's medication and therefore is obliged to reduce his dosage.
These financial difficulties were also among the first factors repetately mentioned by the psychiatrist with respect to hindrances to the continuation of medication and/or formal treatment.In sum, this 'lack of financial resources' aspect of poverty is widely acknowledged, although in fact, there are ways around paying the full price of the prescribed medication.
At MHL, clients who cannot afford treatment can, in theory, get help from a 'poor people fund'. In order to be eligible for this help they are required to present their citizenship, a letter from their municipality and proof of diagnosis from the doctor. In practice however, a psychiatrist revealed to us that the people assessing for the 'poor people fund'usually 'rely on their gut feeling and do not investigate the financial situation of the family'. These flaws in the system makes the life of those in need very difficult.
WARNING: Javascript is currently disabled or is not available in your browser. GlobalGiving makes extensive use of Javascript and will not function properly with Javascript disabled.
Please enable Javascript
and refresh this page.