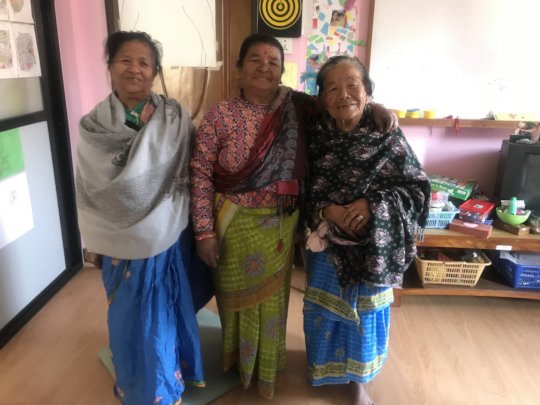 About twenty years ago during a rainy day Sita's house collapsed killing her husband. Few years after that her daughter died of cancer. She now has a son called Raju who is suffering from serious mental health problem. She says Raju was a smart boy, used to speak "good English" and "worked as tourist guide". He used to "earn money and bought everything he needed during that time". "He even missed classes to work as guide". One day he left to visit pilgrimage in India. Sita was "not comfortable about sending his young son on a pilgrimage" but his "appeal and desperation" was such that she had to "relent to his demands". It came as a great relief to her to know that her son was not travelling alone. He had 3 other friends who was going with him.
However, while travelling to holy sites in India he was somehow disconnected from his friends and got lost. When his friends came back to their homes Sita was "devastated" to learn that her son was not with them. They told her that Raju was "lost in India". Sita went to police station to report about him. Finally, one of the "senior police officer" "accidently found" Raju in a southern city near Nepal-India border and immediately contacted the family and helped to bring him back to his home. Since then he suffered from serious mental problem."
Sita is his only carer. She cooks food and looks after him every day. One time when she was accidently hit by a school bus, she had to be hospitalized for 8 days. During this time Raju had to survive on instant noodles and water. Sita is already 76 years old and have been the only person taking care of her son since his mental condition deteriorated.
She complained:
"I used to be invited by my brothers and sisters during every festival. But now they invite me no more. I could not go to their parties because I don't want to leave my son in this condition. Now I have nowhere to go. I have nowhere to turn to. All my relatives have abandoned me. Sometimes I feel as if my entire life is one big punishment. I have no rest and no holiday"
Sita with the support of Chhahari Social Worker took him to mental hospital where they were informed that he was suffering from serious mental health problems One of the "major problems" with Raju is that he himself is not able to remember which medicines to take regularly while his mother is "old and cannot remember it either". Not taking medicines regularly have made his recovery progress slow.
Chhahari social workers have "drawn a colorful chart of various medicines and various times to take it" and have even stuck it in Raju's room wall but he still forgets to take it. Social workers have even tried by giving a cell phone for Raju so that they could phone him or Sita to remind them of taking medicine regularly but "they had difficulty in learning to use the phone". Social workers are worried that his irregular consumption of important medicines could "worsen" his mental conditions and that is the main reason why they frequently organize home visits to his place.
Chhahari Social workers have also played an active role in fixing appointments for him with doctors. They also frequently accompany Raju and his mother Sita to the hospitals to consult with doctors. Sita explained why she appreciates when social workers accompany her and her son to hospitals:
"The doctors are very intelligent, and they think we are like them. They speak very fast and use words that we do not understand. Whenever I stop them when they are speaking to ask what they have just said they will tell me "just give him this medicine and meet me next month". After the appointments with the doctors are over the Chhahari social workers explains to me very slowly about what the doctors had said during the appointment"