Sachin hated coming out of his room and was afraid of meeting other people. Social workers from Chhahari started building a relationship with him and now we have been working with him for over 5years.
Whenever Social Workers from Chhahari went to meet him they started building trust and connection. Then slowly they started taking him to a nearby restaurant, parks and places he enjoyed visiting. During a walk to the restaurant, he began opening up and sharing his frustrations. They slowly learned that he sometimes likes to smoke a cigarette and hence they invited him for a walk allowing him to smoke. After a long-continued relationship, Sachin gradually started attending the Welcome Centre Session at Chhahari. Now, he is one of the "regular clients" to attend the session.
We were able to bring him out of isolation and now he has managed to make three friends from the welcome centre session. All three love to go out together and smoke cigarettes and play ludo game, they are the only friends he has and enjoys their company. The friendship that Sachin has built with one another has helped him to have a sense of companionship and belongingness.
The social workers from Chhahari are able to gain the trust of clients and their families because we invest long hours of time and energy building connections. Some of the clients and their families have been interacting with the same social worker for almost 7 years.
For many clients and their family members, the support from Chhahari social workers may not represent the ultimate solution to all their problems, but they nevertheless are people who they can turn to talk about their problems and be comfortable with.
One of the youngest clients of CNMH is suffering from chronic mental health problem. It has been a struggle for the CNMH social workers to assist her to psychologists/ psychiatrists. Her mother who owns a small restaurant has a serious health condition. According to her doctor and medical reports, she needs heart surgery as soon as possible. The delay in her heart surgery is related to her economic status.
CNMH social worker has identified government provisions through which the cost of her surgery could be reduced by almost one third. It is however not easy to be eligible for it because it needs various government recommendations and certificates. Although this is not related to her mental health, CNMH believes that it will have a positive impact on the mental health of her daughter if her mother gets better.
CNMH is on a mission to help as many clients as possible to have access to Social Security Allowance (SSA) from Nepal Government. At the same time, many of the clients in the streets do not have proper citizenship certificates.
For the past few years, CNMH has been working towards getting a Social Security Identity Card from the government for many of the clients with chronic mental health problems.CNMH have been able to slowly and successfully manage to link clients and carers ( carers refers to the main person responsible for the day-to-day unpaid care of the family member that has a mental disorder) with the government's social support programs.
Few of the clients now have security and some independence. However, the challenges still remain.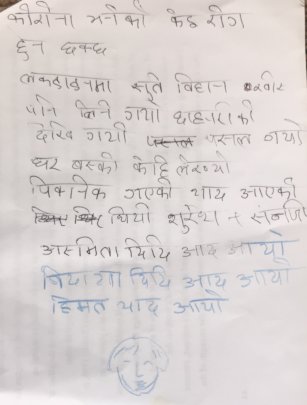 Sam is a male client in his thirties. Although he has a room provided by a local temple, he still roams the streets and can disappear for days at a time. He has been diagnosed with schizophrenia and experiences auditory hallucinations. Without assistance, he rarely takes his medication, although he has not been hospitalised since Chhahari Nepal for Mental Health (CNMH) began supporting him. His nephew is his primary carer, helping with medication and hospital appointments. He cannot work.
Sam does not understand the Covid-19 pandemic or the public health measures, although he began wearing a mask in public, months after this became mandatory. Sam's income came from begging at the temple, but this has not been possible during the lockdown. He continued to roam during the first week of lockdown, then stayed home for two weeks. Since then, he has been going out again, including to CNMH office every Wednesday for the (closed) Welcome Centre Sessions.
Since the lockdown, Sam has been going to his nephew's house every morning and evening for food, after which the nephew gives him his medication. It's good that during the lockdown there is the routine set up of going to his nephew. On two occasions he went several days without medication, once because the nephew forgot and once because Sam received food elsewhere. CNMH Staff has been in constant communication by phone with his nephew and sister.
He has been spending more time at home and looking after himself better. His (late) mother's friend lives nearby and has been providing Chhahari with regular updates, including seeing him washing and changing his clothes more often. CNMH staff is teaching Sam on a regular basis to use a mobile phone but he still struggles so regular home visits have continued under lockdown. CNMH provided arts and crafts materials, which he enjoys and uses to express himself.( Attached Sam's expression of lockdown)
CNMH prioritised continuity of care above all else, to the greatest extent possible and are continuously working to ensure our clients have access to a sufficient supply of medication, food, shelter and social support.
WARNING: Javascript is currently disabled or is not available in your browser. GlobalGiving makes extensive use of Javascript and will not function properly with Javascript disabled.
Please enable Javascript
and refresh this page.