Blanco injured her arm over 6 months ago and has been unable to use it. She has not come to the clinic because she is afraid to come out in public. Many people all over the world have been facing this same fear. Debilitating fear. This has kept us from our family, our friends, our support systems. Everything.
This lady is not the only one in our area. We have had to reinstitute home visits for many people who have developed Agoraphobia. (Fear of leaving the house) Even though , logically , it makes not sense to let a stranger in to your house as they still have the capacity to make you sick. Since the home has become a "safe place", they are unable to make any efforts to think logically. The fear rules everything.
We wrapped her arm but she needs a surgeon. No way she is letting that happen. She did take the first step by coming to the clinic. Hopefully we can get her to a surgeon before she completely looses use of the arm.
Overcome your fear, be kind to others, learn to not only live in the world but we need to become part of the solution.
All the best, gayle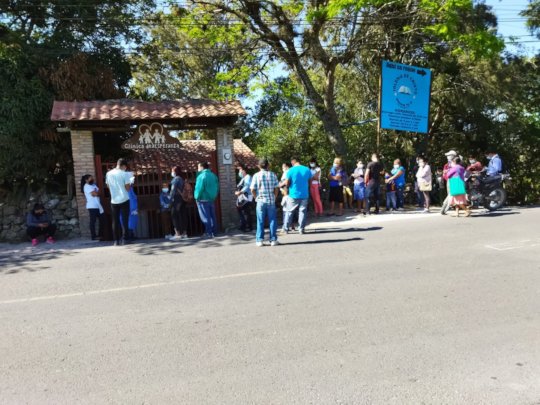 Dear friends;
We always know if we are in the world long enough that we can not do much of anything on our own. I was reminded of this recently when people from all over the United States pitched in to help with the Covid crisis in health care.
Many of you provided funds. Many women sewed masks, clothing and needed items. We received box after box of badly needed medication to give to the poor during treatment at the clinic and in the villages. Just when I think we will not be able to take care of the need, you come through.
I pray we will always remember how to care for fellow human beings. Your acts were selfless and directed towards people you have never met.
Thank you for all you do. Everything you do is meaningful.
Gratefully,
gayle savage davidson
Dear friends,
Only .6% of Honduras has been vacinnated. Our clinic was rated high and we were all able to get vaccines last week. They even came to the clinic to administrate. My staff has been frontlining for covid without complaint but expressed extreme relief when they received the vaccine.
Working during these difficult trying times has been challenging during covid for both healthcare providers and patients. It has caused a desparation in Honduras like I have never seen before. Many out of work with no governmental assistance.
Thank you for making it possible for us to work without as much fear. Your encouragement and funds have been invaluable. Never have the needs seemed so obvious as they do every day we go to work .
Gratefully yours,
gayle
WARNING: Javascript is currently disabled or is not available in your browser. GlobalGiving makes extensive use of Javascript and will not function properly with Javascript disabled.
Please enable Javascript
and refresh this page.