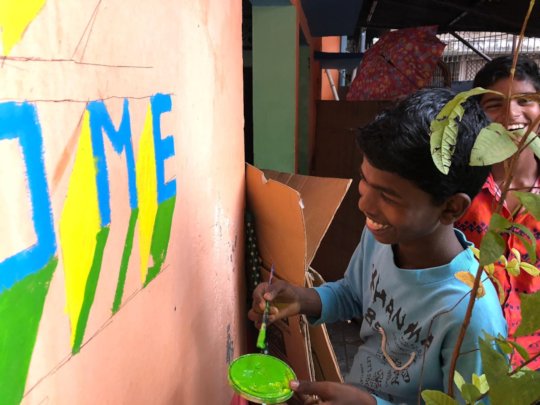 Beginning of the winter in Nepal means a lot of festivals. We celebrated Dashain and Tihar festivals and a few other regional ones. The boys were very happy with all the celebrations and beautiful new clothes that got specially chosen for them by our wonderful home manager Bindu. These sorts of occasions are great to make the boys feel special and a part of our big family.
Recently we welcomed a new boy who was referred to us by the local government. His dad had passed away and he was staying with his mum, 4 sisters and grandfather. The grandfather has leprosy and is not able to help the family in any way but needs looking after himself. The boy used to escape from home and stay on the streets where he begged and of course not attended school. The authorities asked us to help and we welcomed him to our home. Luckily, he is healthy and not affected by leprosy. Our boys are now very happy to have a new little brother that they can take care of.
From one of most shocking news that we received recently is finding out that our 12 year old boy and his 10 year old brother got married off by their family to 6 and 7 year old girls when the boys were staying with them. This is illegal in Nepal but cultural differences mean that we have to deal with that in a very delicate way. We are discussing now with the authorities and other organisations how to best protect the boys and their new young wives. We are doing what we can and at the moment they are all safe.
Our Child Helpline has been officially launched and we have been assisting more and more children. The mayor, local authorities, police and local businesses have been cooperating with us in an amazing way so we hope that we will be able to make Birgunj street children free in the near future.
We will be launching a winter campaign shortly so please do check out our social media for any updates, and we do hope you can support us further. With your continuous support we are able to help more children who desperately need that help.
As always, a massive thank you!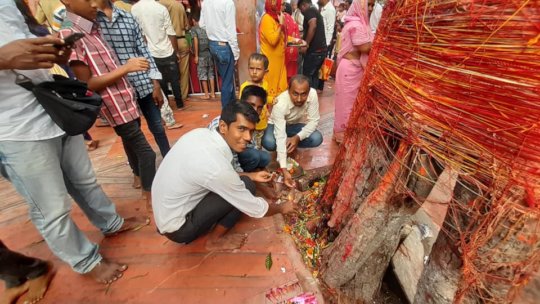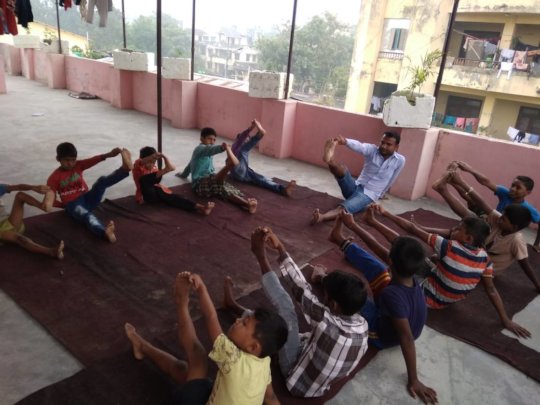 This rainy season has again been a very destructive one and many people in the Terai region lost their houses and some even their lives. Because of lack of infrastructure during that time it is very difficult to start any new work. But we are doing our best. We have now signed the MOU with the local government in Birgunj and we will be starting our official child helpline shortly. We have applied for the toll free number that children or any member of the public can call us on - these applications take some time and require quite a bit of paperwork from the government. But we think it should be sorted soon. For the time being we are using just a normal local number.
We are moving to a larger building in the next few days - the government has supplied us with more furniture and equipment. The new home will have capacity for 20 children to stay at night and many more can come during the day and enjoy nutritious food, classes and games.
The child helpline will cover all districts in the Province so we will be able to help a lot of children that need assistance. The local government want to make Province 2 street children free so they are wonderful at supporting our work.
We have a fantastic volunteer arriving in Birgunj in a week's time so she will assist the staff and children in decorating the new building and making it as child friendly as possible. The boys also want to help so we can't wait to see more of their artistic efforts on the walls!
We will update with the photos of the new home in our next report.
Thank you so much for all the support so far!
We have been very busy for the past few months. First, we managed to sign an MOU with the municipality which means that we will be starting to operate a child helpline in Birgunj starting immediately. This is great news as it means that we can help even more street children. We will be moving to a larger building that we have now signed the lease for. The building is much more suitable for the project and has an outside gated area where the children can play safely. So any future volunteers and our boys will be assisting in decorating it over the next few months.
Our boys scored very well at their exams. Our oldest boy got highest marks at his final school exams so he is now ready to start his college soon. He has now become our Project Assistant at the Children's Home so he can work part time and study at the same time. We are very proud of him.
During their school holidays one of the boys was getting his work experience at the local carpenter's workshop - and he loved it. Another boy got his singing training in Kathmandu - his dream is to be a famous singer, so let's see. Another great news about one of our boys who cannot speak and is having learning difficulties - we have now linked him with a group of young workers who also cannot speak. They are now teaching him sign language and showing him how they run their shops and other small businesses. He loves spending time with them and all the learning.
The boys are back at school now after their holidays so let's hope this school year will be as good as the previous one!
As always, thank you all so much for your continuous support. Please feel free to get in touch anytime if you have any questions about the projects, boys or if you'd like to volunteer.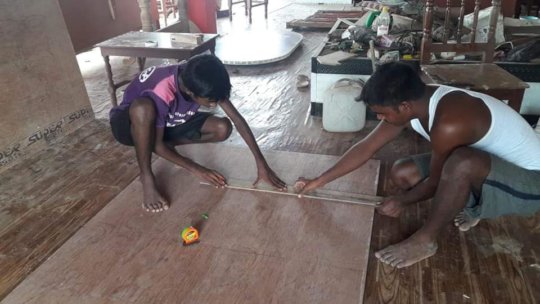 Links:
WARNING: Javascript is currently disabled or is not available in your browser. GlobalGiving makes extensive use of Javascript and will not function properly with Javascript disabled.
Please enable Javascript
and refresh this page.