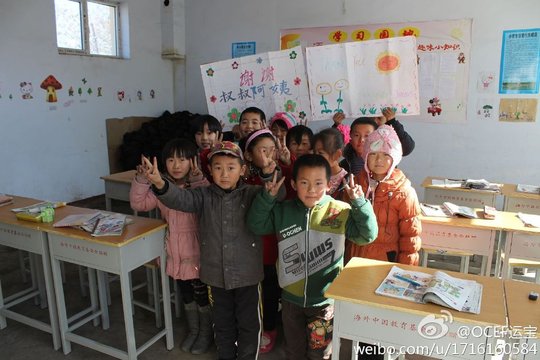 Dear Donors,
Hope you are having a wonderful summer!
At the end of June, our staff traveled to Guangling, Shanxi with two GlobalGiving staff members. A lot of students who have been receiving our financial aid live in Guangling and we were really happy to visit some of them on this trip.
One of OCEF's aid recipients in Guangling is in his final year of high school. His grandparents are ill and father disabled. His mother is slightly healthier and has diabetes. Together the school's tuition and the medical expenses far exceed what the family can afford, as the annual household income is only $1350.
Another student attending the same high school has a similar struggle. This student lives with his parents and sister. His sister has congenital heart disease and paying for her operations had left the family in huge debt. Even worse, his father is disabled by a car accident, which leaves his mother as the only person in the family able to work, generating only little more than $800 income per year.
These two students with financial difficulty both received $350 from OCEF last year, like many other high school students in the Financial Aid Program. To apply for OCEF's financial aid, a student must prove that his family annual income per capita is below 2300 yuan (~$380). Every year, we visit and evaluate new applicants as well as re-visit and re-evaluate existing students to make sure that our help goes to where it is needed the most.
The recent trip to Guangling, like our many other trips, showed us the strong will of aid recipients to stay in school and the progress they have made after months of dedicated studying. What we see greatly encourages us to continue our work. Since 1992, OCEF has distributed over 14,000 financial aid packages. We have changed the specific amounts of these packages a few times over the years according to the cost of living in China. At present, we offer yearly, need-based financial aid of $100, $150, and $350 to elementary, middle, and high school students, respectively.
As always, we truly appreciate your kindness and help. Thank you for making our work possible. Please keep supporting our students as you always do.
Sincerely,
OCEF
Links: