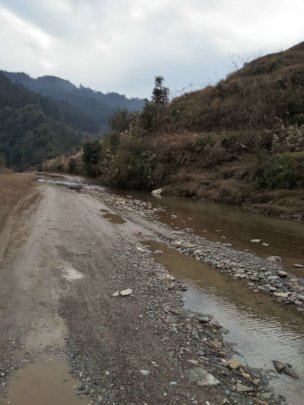 Dear OCEF donors and friends,
Rongshui Miao Autonomous County is a small county of Liuzhou city, Guangxi autonomous region. It has very beautiful mountains and rivers. Unfortunately, many villages hide inside those mountains and rivers with less connection with outside. Poverty is a serious problem.
OCEF has many projects in Rongshui, including student financial-aid, teacher aid, library projects, and special school improvement projects. Many students are supported by OCEF and its donors, and some of them have graduated from high school and enrolled in colleges. N. Wang is one of them. He comes from a single-parent family, and got financial aid in 2015. He studied very hard, and successfully entered Department of Landscape Architecture, Fujian Agriculture and Forestry University, in the summer of 2016. In that summer, he joined other villagers to build railway in Baise city, and earned more than 3,000 RMB as tuition. This is not the end of the story. He didn't disappear, because he applied to be a volunteer of OCEF in September 2016. When he was a high school student, he always asked questions about OCEF, and showed strong interest to be one of the volunteers. When he was in college, he helped our project coordinator collect teachers feedback and maintain library categories. In the winter break of 2017, he volunteered to visit many underprivileged families and students. These families are mosted located in big mountains, far away from everything. He drove his motorcycle on these local roads only he is familiar with, and he knows the local language which we are hard to understand. He is the key to the difficult jobs of family background investigation. With his great help, we recognized many students who urgently need financial support. From then on, he did a lot of volunteering jobs for us in every school break. He continues to help us in other projects when he is in college in Fuzhou.
He is not the first volunteer who was once supported by OCEF, and he is also not the last. That's the most beautiful thing we could imagine. We passed our love to these kids, and when they grow up, they amplify the love and pass to more kids. They were unfortunate to be born in poor families, but they were fortunate to be gently touched by someone like you, and they were thankful and decide to pay back their thankfulness by help others. As volunteers, we thank them, and we appreciate their choices. Their choices define the meanings of our volunteering jobs, define the contributions of our donors, and define the success of OCEF.
N. Wang is not alone. We had L. Li, C. Xiao, Z. Meng, Y. Wang and Y. Huang joined as volunteers. They were all students got financial aid from OCEF before. Winter is cold, but they make it warm. With their help, we successfully held a winter camp in Rongshui this January. Four volunteer teachers from Beijing brought music program to about 50 students who are being supported by OCEF. They all got great experience with music and other arts, which they couldn't get from local limited resources.
Spring is coming, let's warm up, and cheer up. Go kids go! We love you and you deserve a better tomorrow!
Overseas China Education Foundation