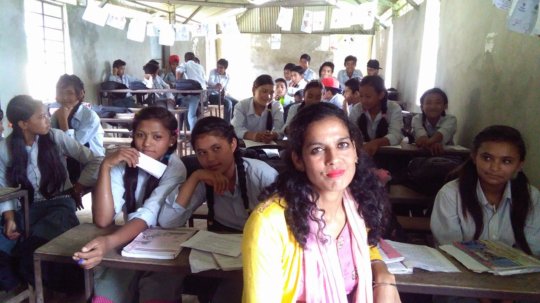 MATCH YOUR DONATIONS BY 50%
NOVEMBER 29th (eve of Nov. 28th in California)
TO OUR GENEROUS RAJBASH HOSPITAL SUPPORT FAMILY:
The Bill and Melinda Gates Foundation has generously provided $500,000 in matching funds for 'Giving Tuesday' (Nov, 29th). There will be an unprecedented 50% matching on this day for each donation up to $1,000 until the first $1 million has been raised. The matching begins at 00.01am ETS on Nov. 29th and ends at 11:59 pm ETS on the same day. For us Californians this means Nov. 28th, 9:01 pm PST, ending Nov. 29th, 8:59 pm PST.
To take advantage of this very generous offer, and if you have been thinking about including the DCWC Rajbash Hospital in your holiday giving, you must time your donation just right for a chance to have your donation automatically increased by 50%. Many other Global Giving project people will be poised by their computers, donation ready, to donate as close to the opening as possible. Please adjust the timing of your donation to your particular time zone and be ready for your donation to Global Giving, project # 14750 - Lifesaving Healthcare for Remote Farming Villages. Please mark your calendars!
Much is happening in Rajbash, and that will be reflected in our December report. In the meantime,
MEET THE NEWEST MEMBER OF THE RAJBASH HOSPITAL STAFF
Anjala Phunyal has a Masters' degree in Health Science and joined us as health educator/outreach coordinator seven months ago (since we lost our beloved Min Prasad to a government job). She knows the Kavre area well as she grew up here, in the Patlakheta VDC to be precise. Anjala is married and has a 12 yr. old daughter who lives with her family in Kathmandu. Since Anjala lives in the hospital compound in Rajbash, she sees her family only occasionally - this is a sacrifice few of us in the West can comprehend, yet it's a hardship so many people in Nepal accept to provide for their families.
Anjala's education and experience singularly qualify her for the job of health educator and as such she works with people of all ages on aspects of health maintenance and hygiene training. As she travels from village to village, identifying urgent health needs, she also goes door to door to identify newly pregnant women. She checks their health status, their vitamin intake, and refers them to the hospital for perinatal care. She counsels them on the advantages of a hospital birth with a trained midwife. Many women, particularly in remote areas of the country, are wary to involve the hospital in something as private as a new birth. Often the husband as well is unwilling to expose his wife to they eyes of strangers during the intimate act of birthing. However the risks of contamination, uncontrolled bleeding and improper placenta removal are great and can result in death of the mother or the baby. (For more information you may want to watch the video by journalist Subina Shrestha on 'Birthing in Nepal' referenced at the end of this report.)
With prior permission of the principals Anjala also visits village schools to deliver her health education. Especially the young children respond enthusiastically to her use of song, rhyme and dramatic acting as well as charts and graphs, while learning about the importance of handwashing and oral hygiene. Having a young daughter, Anjala feels particularly committed to educating teen girls about the physical and mental changes of the adolescent female body, about the menstrual cycle, and the use of sanitary pads. Many adolescent girls quit school for fear of embarrassment once they start menstrating. Commonly the school bathrooms have not been private enough to make girls feel safe from exposure during this very intimate time in their cycle. However, more recently, principals and administrators intent on keeping girls in school have instituted separate bathrooms for girls with very beneficial results.
When classes are over the premises often become a place where the community meets. On a recent afternoon Anjala conducted a community health class on the topic of uterine prolapse. This is a common and often untreated condition for women in Nepal. Interest in Anjala's presentation was intense and one can only hope that some of the women who suffer from uterine prolapse will feel empowered to seek relief at the hospital.
In a way Anjala is like an ambassador of Rajbash Hospital as she brings the message of the services we offer to the people in the village. Her professional and warm interaction with those she teaches is slowly reducing the distrust toward hospital use that cultural conditioning and also extreme poverty have created. Instead she uses her work to educate, to promote trust and to building bridges between the hospital and the communities we serve. We are excited to have Anjala on our team. Some of her outreach activities for the Rajbash hospital are well illustrated in the pictures below.
Community outreach and education is only one of the many activities that make the Rajbash Hospital a success, and that success is made possible by you, our supporters. We therefore close this report with a heartfelt THANK YOU to all of you who are sustaining us as we continue our important mission.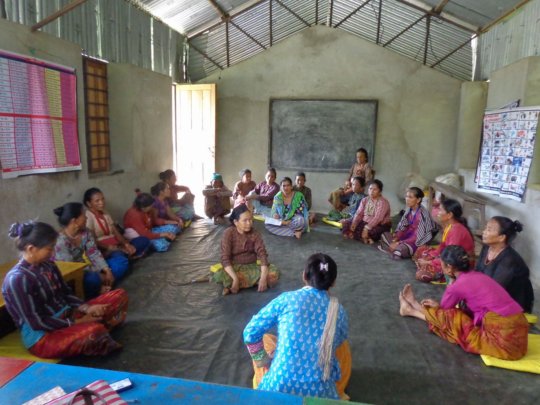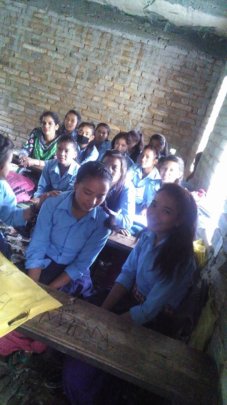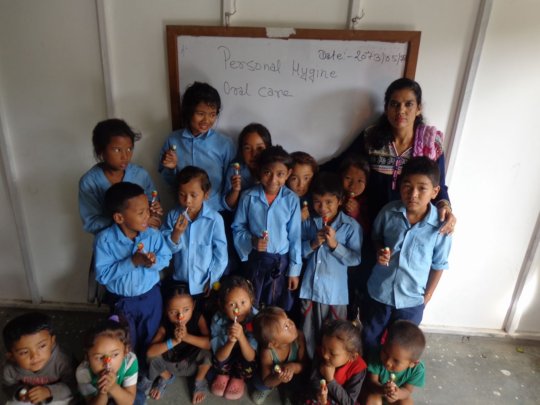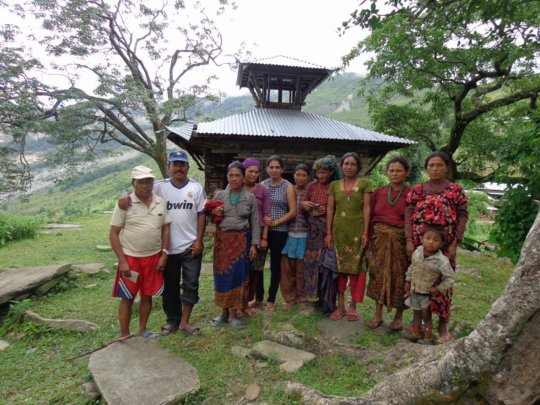 Links: