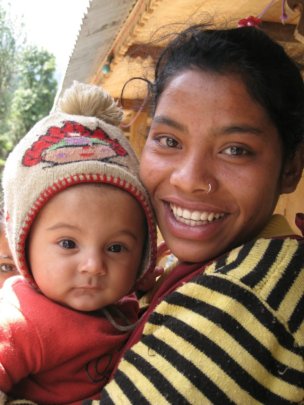 Access to family planning information and intervention is of crucial importance in Nepal's efforts to reduce maternal and child mortality, and improve the health of Nepal's children and their families. Our Health Educator at the Rajbash Community Hospital, Mrs. Anjala Phunyal, spends a good deal of her visits to the communities of Rajbash explaining reproductive health and the importance and means of family planning. Mostly her audiences are women who still shoulder most of the responsibility for pregnancy prevention. Out of 26 attendees at a recent free healthcamp on vasectomies and implants (IUDs) only one was male.
As of May 2017 a newly reinstated American policy, called the 'Gag Rule', will make Mrs. Phunyal's job much more complicated. Here is some background:
As we learned from a New York Times article by renowned Nepali journalist Subina Shrestha, Nepal used to have 'a very high maternal mortality rate. For every 100,000 live births 539 women died' back in 1996. It is believed that one of the reasons for these deaths was 'unsafe abortions'. Until abortion was legalized in 2002, many women were imprisoned for having had abortions.
Like many very poor countries, Nepal had to rely on aid from other countries to provide health care. Apparently the US became the largest donor to fund health and also family planning services, and Nepal started to make progress in reducing maternal deaths.
It all became very complicated when in 2001 the new US president (G.W. Bush) re-imposed what's called a 'global gag rule' (a law left over from the Reagan years but reversed under Clinton) which suspended the US funding of overseas organizations that provide abortions or counsel patients on issues surrounding abortion.
The Family Planning Association of Nepal, the largest provider of contraceptives, lost part of its American funding. They had to lay off large numbers of health workers and their mobile clinics in rural areas. The provision of contraceptives was substantially reduced. Family planning in Nepal was profoundly set back.
Under President Obama the 'gag rule' was lifted again and the Family Planning Association of Nepal received a USAID grant of more than $5 million over four years. Health workers were hired to organize health camps and screenings for STDs and uterine cancers. Family planning advocacy efforts restarted and again much progress toward reducing maternal and infant mortality was made. This progress is now in jeopardy.
The newly reinstituted 'global gag rule' signed into law in May is now called the 'Protecting Life in Global Health Assistance', and while its funding covers international health programs such as those for HIV/AIDS, maternal and child health, malaria, family planning and reproductive health, the rule prohibits US money from funding international family-planning clinics that promote abortion or provide counseling or referrals about abortion services.
For healthcare organizations to stop providing abortions would be neither easy nor the right thing to do. In many places, one clinic serves multiple functions — taking care of women and children, treating HIV, testing for sexually transmitted diseases, offering family planning and contraceptives and sometimes abortions or abortion counseling — all extremely important functions.
In very poor, rural areas of Nepal, a legal abortion can mean life or death for a woman who gets pregnant unintentionally. If she can't get a legal and safe abortion, she may opt for an illegal and dangerous one. In the case of an unmarried female, she may have to face the wrath of her family. Although State Department officials say that an abortion referral in the case of rape, incest, or to save the life of the woman is exempted from the rule, many providers are expected to refuse to sign on to an agreement that will generally restrict them from offering abortion services to those who need them.
Ms. Shrestha states: "American aid has made a very valuable contribution to women's health, but these policy reversals undermine it. Nepali women's welfare is vulnerable to the whims of each new administration."
Dr. Naresh Pratap K.C., an official from the Health Ministry's Family Health Division says: "The impact of this will be huge."
The restrictions under the new 'gag rule' will make Mrs. Phunjal's job that much harder as they take critical family planning options away from women in one of the world's poorest countries.
To read the entire article by Ms. Shrestha go to International New York Times, Feb. 10, 2017: 'Donald Trump Redoubling on the gag rule and its potential effects in Nepal'.