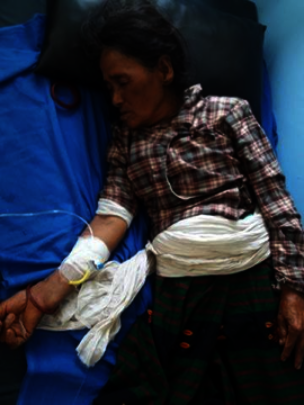 The following are some examples of how our patients feel about the care and medical interventions by the staff of the DCWC Rajbash hospital:
"Thank you Rajabas hospital for making my baby and wife alive, we never could explain how much we are thankful for your life saving support, thank you for your support and help, may god will always makes you happy and always blessed by god"
An elderly woman came in with COPD and suffered from typhoid fever . She was admitted 3 days in our hospital then recovered. She was so happy that she give blessing to the staffs of hospital and said without the hospital over there many people would suffered and may die so she is very happy to be taken care of by our medical team.
A father who brought his 10 year old son for treatment: "I was so worried. My son was semiconscious due to diarrhea. I carried him on my shoulder and walked by foot about four hours to the hospital. Now my son is getting well. I am very thankful to DCWC hospital for making my son well. May god bless this hospital family and I still hope to get regular service from this hospital."
THIS IS THE IMPORTANT WORK YOUR DONATIONS ARE MAKING
POSSIBLE. A GENEROUS DONOR CURRENTLY OFFERS TO MATCH
YOUR DONATIONS UP TO $12500. DOUBLE YOUR IMPACT TODAY!
A 97 yr. old male who sustained cuts and bruises from a fall. Alone with his wife, they have no income and live from the food they grow in their garden.: "After I had fallen from stairs and got cut injury over whole lower limbs, and there is no ambulance to my house, and I did not have even a penny to pay for transport, I sent my grandson to ask the hospital staff to come to my home. I am thankful that they have come here and treated me, and even now they come to regularly change my dressings. I even can't explain how much I am thankful to the hospital, god bless them, to help poor people and old age people."
One little girl, 4 year old Lukky, came to our make shift hospital tent (after the earthquake) with extensive burns on her hands and her lower body. She and her sister were helping to fill Kerosene into lanterns when suddenly there were flames and anguished screams. Lukky's parents rushed to their daughters to find their youngest one crying in pain. Bandaging the little girl and comforting her the family rushed to make a seat for her in the big basked used for harvesting. Rocked gently in this make shift ambulance her parents carried her for three and a half hours down to the Rajbash hospital where Dr. Uddav and our nursing staff were able to disinfect and properly treat Lukky's burns. Relieved and grateful to know their daughter safe they were on the long journey home the same afternoon.
And here is a quick recap of our most recent quarter:
October: Free Dental, ENT and general check-up camp - served 265 patients
December: Free Accupuncture treatments by visiting chinese specialists
Mid-Aug - mid-Nov: Largest quarterly number of patients ever treated at hospital -1222
We hope that this recap makes abundantly clear why the DCWC Rajbash hospital is so absolutely important for this remote region of Nepal. Your support makes it possible for our dedicated, professional staff to continue bringing basic medical care to the subsistence farming families of this region. Please join the match - and watch your dollars double!