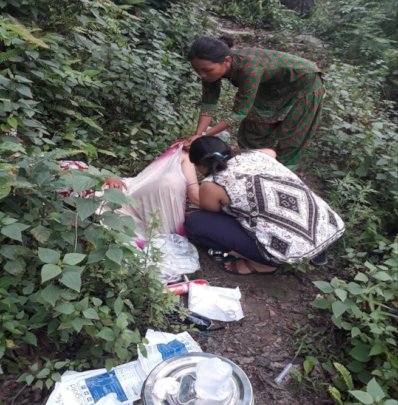 While the town of Rajbash has been busteling with construction projects, the Rajbash hospital continues to perform everyday miracles for the people of the region. That's its mission and that's what it does well.
A miracle happened one afternoon in early July. A relative of a patient called for our ambulance. A woman was in severe pain. Immediately our doctor and nurses packed the necessary medical equipment and got on the road. By the time they reached the town of Doramba the road condition was so bad they had to leave the car and start walking. Before they got very far they met the patient on the trail. She was in the final stage of labor pain and birth appeared imminent. Our team immediately took charge, made the woman comfortable right there on the trail and helped her to successfully deliver a little baby girl. Mother and child were then safely carried across the river where the ambulance was waiting to take them to the hospital. Although born prematurely, the little girl and her mother were in good health and released to go home soon after.
Our free health camps have been very popular with the families in our district. For the month of October we would like to organize another 'Dental' camp. The need for dental care is huge in the remote villages of our district and few are the people that can afford to seek care in Kathmandu or some other bigger town. However, bringing the machinery and filling materials from Kathmandu to the village is expensive. In order to make the treatments affordable we are attempting to coordinate with a dental hospital in Kathmandu, but the details remain to be worked out.
In addition we'd like to bring back a group of Chinese doctors who held a very well received free acupuncture clinic for villagers at the Rajbash hospital last year.
After some personnel changes our Outreach department is in firm hands again. Our efforts to distribute sanitary pads coupled with personal hygiene training to teen girls in our schools are continuing and expanding. This effort is super successful with teen girls and has resulted in a reduction of truancy because of the shame formerly associated with menstruation.
Our mother's groups continue to provide a forum for village women in their home environment, to share information with each other and to learn about health, hygiene and nutrition from an outreach worker. This provides not only for better health outcomes for families but also a social support network for the many young women that live in these remote places.
And now a last comment about the above mentioned construction activities: You may recall us telling you that the recent improvements on the road into Rajbash involved some widening of the road bed right below our pharmacy building. As you can see in some of the attached pictures a building crew has been busy shoring up our property against erosion toward the road. A solid stone retaining wall was erected between road and hospital. It not only secures the hospital property against further deterioration but also provides a security fence making it easier to control access to the hospital.
With gratitude for your support and involvement, Karin