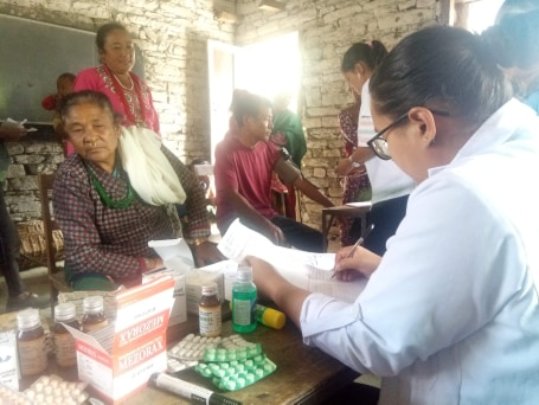 By Chanda Lama, Co- Project Manager
Namaste, A warm greeting from Nepal
What an exciting 3 months it has been! We served a total of 1800 patients, a healthy increase over previous quarters. This is not only the result of better record keeping but also the result of our increased focus on outreach into more remote localities.
While we still conduct our Free General Health Camps that routinely attract several hundred patients who come to be treated for free, we have now started to conduct Mini Health Camps in smaller villages. These have proven to be very popular with disabled and senior citizens as well as our very young patients. It allows them to get health check-ups as well as medications for free and at a more reasonable walking distance. As patient numbers are generally smaller, these camps require fewer staff members. Still, in many cases they have to hike for several hours with medical supplies on their back to reach remote villages.
An example is the Mini Health Camp held at Shree Darga Basic School in Doramba, Ramechhap District, on Nov. 14th, attended by 91 patients, most of them suffering from Acute Pulmonary distress, Multiple sclerosis pain, joint pain and Respiratory Tract infections. To make the journey worthwhile, 21 students in grades 1 to 5 were given a class in personal hygiene.
Another Free General Health Camp on Sep. 2nd at Shree Tara Lamo School in Wanthali, two hours walk from the hospital, was attended by 104 patients. Four of our medical staff and a manager went with medicines to conduct the camp.
Two of our super versatile and capable women staff members, Outreach coordinator Shova Kumari Dhungana and Medical Assistant Geeta Kadariya continue to reach out to teen girls through personal hygiene classes and the distribution of eco-friendly sanitary pads. Speaking openly about bodily functions helps reduce the shameful feelings girls experience about menstruation. Having access to sanitary pads is also resulting in a remarkable reduction of truancy by teen girls during the time of menses.
Ms. Shova also took her Health Awareness program to 7 different communities educating villagers about common diseases like typhoid fever, dengue fever, Scrub typhoid, respiratory disease and hypertension.
Inspite of her full schedule, Ms. Shova always makes time for pre- and post natal visits, reminding pregnant patients to have regular check-ups, and teaching new mothers about new born and cord care, the importance of immunization, healthy nutrition, and family planning.
As you can see, much is happening at and around the Rajbash hospital, and more than we have here recounted here. Stay tuned for our next report end of February with an introduction to one of our staff members.