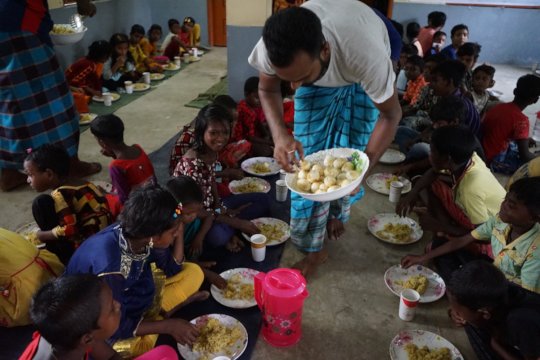 Sundarbans coastal region of Bangladesh is extremely disaster vulnerable. People of this region have to face a numerous (small and big) natural disasters over the year. Sometimes, massive disasters occur in here which stuns the general life and livelihood of the general people. In the recent years, some mega disasters occurred in this region like Sidr, Aila, Bulbul, Fani, Titli, Amphan, Yash etc. BEDS provided emergency relief support to 150 coastal families with the help of GlobalGiving. Some of the families who fall victim also get rehabilitation support for sewing and farming activity by BEDS. The supported villagers are doing well with duck, chicken, sheep, seeds and earning money.
The people of Mathurapur village under Shyamnagar sub district of Satkhira district (adjacent to Sundarbans) lives below the poverty line. They are forest resource harvesters. In this Covid pandemic, their income has been reduced a lot as they do not go different places for work. Most of the children of this area suffer from malnutrition. At present BEDS has taken an innovative step to encourage the children for mangrove conservation as well as reducing malnutrition. BEDS has been providing nutritious food to the 170 children of poor fishermen and ethnic community (munda) at Mathurapur village. Mangrove saplings are planted involving 170 students and after that they feed healthy food like rice, vegetable, fish, meat, fruit and sweet. BEDS will perform this program 15 times with the same 170 children. Thus children will plant more plants and get healthy food.
We would like to thank all our donors for their support to help the Amphan affected people. We are requesting all our donors to start monthly recurring donation by clicking the following link;
https://www.globalgiving.org/projects/donate-to-cyclone-affected-communities-of-bangladesh?show=recurring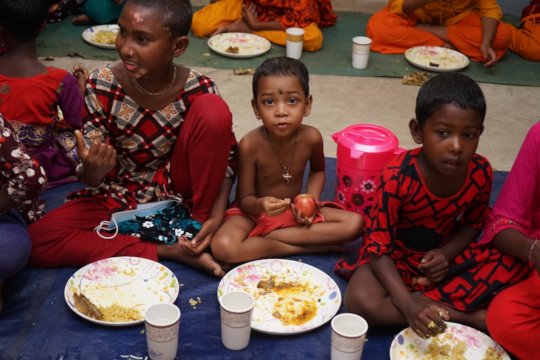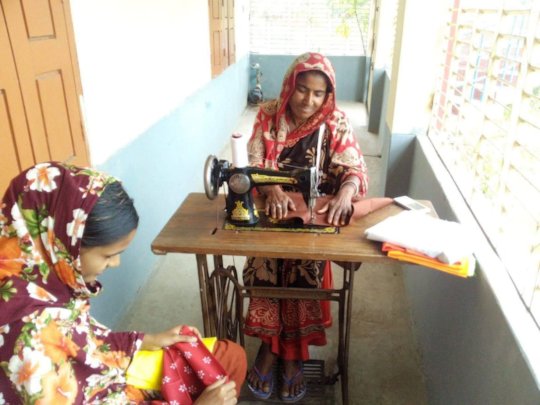 Women empowerment is also very important because no country will develop keeping half of its population in darkness. Bangladesh Environment and Development Society (BEDS) has been trying to improve the life standard of those women by homestead vegetable gardening, duck and ram raring, tailoring etc.
The women of Mathurapur village of Shyamnagar sub district of Satkhira district are the example of the worst sufferers. The people of Mathurapur village live below the poverty line and subjected to several natural disaster like cyclones, soil salinity. The women are continuously struggling with poverty, natural disasters and social conflicts. BEDS has identified that the women are interested in tailoring like small cottage industry and some of them are good in tailoring. But they are unable to conduct the activity commercially due to the lack of proper training and money. For this reason, BEDS has taken an initiative to empower 50 women of Mathurapur village by developing their skill on sewing and also providing them equipments related to sewing through raising fund from GlobalGiving platform.
So, it's a heartiest appeal to all the donors for being kind to help those vulnerable women to give them a chance to come out from the cycle of poverty and lead a risk free life and also making a better future for their future generation.
We are requesting all our donors to start monthly recurring donation. Please click the following link; https://www.globalgiving.org/projects/changing-life-by-empowering-women/?show=recurring
The project area is located at Banishanta union of Dacope Sub district in Khulna district adjacent to the Sundarbans mangrove forest. Water is a fundamental resource for life and livelihood. But safe water is scarce in the coastal area of Bangladesh. The coastal people have to depend on rain water. In the summer season there is no rain and they are bound to drink nearby ponds and canals water. As a result, most of the people suffer from various kinds of water contaminated diseases.
Initiative:Greenery all around but there is no source of pure drinking water. Bangladesh Environment and Development Society (BEDS)has been trying to provide safe drinking water. We have selected 3 ponds and re-excavated. By using the local technology we have established Solar Pond Sand and filter (PSF) system for water purification. The quality of water doesn't fulfill the drinking standard. So BEDS has installed 2 Reverse Osmosis water purification systems with Water ATM in Paschim Dhangmari and Uttor Banishanta village. 7 water wells have also been installed. Now BEDS has been providing door to door safe drinking water with minimum charge in Banishanta and Laudove union and we are planning to install 8 more water wells in different coastal villages.
Impact: Most of the coastal people used pond water for drinking and cooking purposes and they could not think about the reverse osmosis purified water. But the situation became change after installing the Reverse Osmosis System, more than 9000 coastal villagers are now getting safe drinking water at a cheap rate which is only 0.5 TK per liter. The rate of water contaminated diseases is going to disappear. This little charge is taken for the maintenance cost of water production so that this activity will sustain in the long run process.
Feedbacks from the beneficiaries: Mr. Pramanik who lives in the Sundarban Coastal area expressed his feelings about the reverse osmosis water. Very recent the cyclone - "Yaas" hit over the coastal area and most of the area flooded by saline water. Our water sources have gone under water so we are facing drinking water crisis. At this time BEDS Reverse Osmosis system is the only source of pure drinking water for us. BEDS not only provide pure drinking water at door to door but also save our lives. We are grateful to BEDS for such a tremendous initiative in this coastal area.
We would like to thank all our donors for their amazing and continuous support for the coastal deprived people. We are requesting all our donors to start monthly recurring donation by clicking the following link;
https://www.globalgiving.org/projects/support-drinking-water-to-the-poor-coastal-people?show= recurring
WARNING: Javascript is currently disabled or is not available in your browser. GlobalGiving makes extensive use of Javascript and will not function properly with Javascript disabled.
Please enable Javascript
and refresh this page.