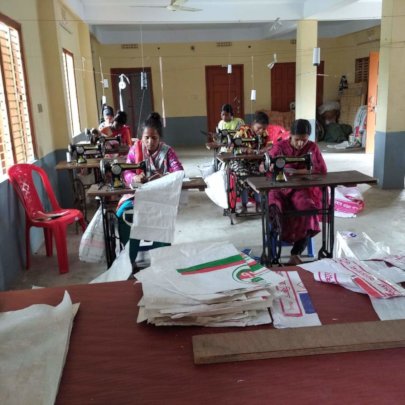 Women empowerment is also very important because no country will develop keeping half of its population in darkness. Bangladesh Environment and Development Society (BEDS) has been trying to improve the life standard of those women by homestead vegetable gardening, duck and ram raring, tailoring etc.
The women of Mathurapur village of Shyamnagar sub district of Satkhira district are the example of the worst sufferers. The people of Mathurapur village live below the poverty line and subjected to several natural disaster like cyclones, soil salinity. The women are continuously struggling with poverty, natural disasters and social conflicts. BEDS has identified that the women are interested in tailoring like small cottage industry and some of them are good in tailoring. But they are unable to conduct the activity commercially due to the lack of proper training and money. For this reason, BEDS has taken an initiative to empower 50 women of Mathurapur village by developing their skill on sewing and also providing them equipments related to sewing through raising fund from GlobalGiving platform.
So, it's a heartiest appeal to all the donors for being kind to help those vulnerable women to give them a chance to come out from the cycle of poverty and lead a risk free life and also making a better future for their future generation.
We are requesting all our donors to start monthly recurring donation. Please click the following link; https://www.globalgiving.org/projects/changing-life-by-empowering-women/?show=recurring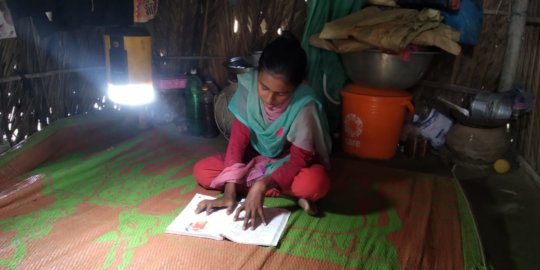 More than 90% people of the Sundarbans coastal region lives in the poverty line. Due to covid 19 pandemic situation many working sectors are closed as well as educational institutions. Poverty is increasing day by day in Sundarbans coastal reason. Due to their poverty, parents can hardly purchase Kerosene for their children's education purpose. As a result, school students of the coastal areas can't continue their basic study at night for lack of electricity.
Impact:
BEDS has been trying to reduce the sufferings of the coastal people by supporting solar lamps. Now, after the distribution of the solar lamp, solar generator and solar battery, education of coastal areas school students' has improved. More than three thousand coastal families of the Sundarbans coastal region union are now using renewable energy.
Feedbacks from the beneficiaries:
A supported school going children express his feelings ''Now I am very happy. Solar lamp is blessing for me. In covid 19 pandemic situation my parents tried hardly income for our basic needs. My parents always try to give their best to educate me. But due to poverty they can hardly purchase Kerosene for my education purpose. With the support of this solar lamp, I can read at night. Some of my friends are going to drop out from schools as they can't study at night for increased price of kerosene. I request honorable donors to help them to continue study by giving solar lights. ''
We would like to thank all our donors for being so kind to us and we hope that our kind hearted donors will spread out their helping hands for the betterment of the underprivileged coastal students by starting monthly recurring donations;
https://www.globalgiving.org/projects/change-life-through-supporting-a-solar-lamp?show=recurring
Sundarbans Coastal zone of Bangladesh is most vulnerable to disaster damage as it faces the first attack of any natural calamities. Each year several catastrophic events attack the southwestern part of Bangladesh and do humongous damage. BEDS together with Village Disaster Management Committee (VDMC) members are working to mitigate the disaster risks of the Sundarbans coastal community of Bangladesh.
BEDS team recently capacitating the disaster vulnerable community on how to handle the adverse condition during the disaster and after disaster actions. What they should do, what preparedness they take to limit the disaster loss.
We are extremely grateful to our donors for their continuous support. We would like to request all our donors to start monthly recurring donations for our project.
We are requesting all our donors to start monthly recurring donations. Please click the following link;
https://www.globalgiving.org/projects/climate-change-disaster-risk-reduction-bangladesh?show=recurring
WARNING: Javascript is currently disabled or is not available in your browser. GlobalGiving makes extensive use of Javascript and will not function properly with Javascript disabled.
Please enable Javascript
and refresh this page.