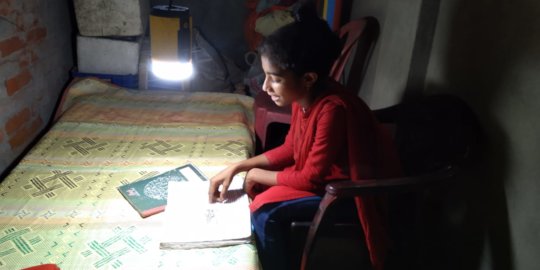 Poverty is increasing day by day in Sundarbans coastal reason. Due to covid 19 pandemic situation many working sectors are closed as well as educational institutions. After 18 months schools educational institutions are opened, students are now going to school again. Due to their poverty, parents can hardly purchase Kerosene for their children's education purpose.
Impact:
BEDS has been trying to reduce the sufferings o f the coastal people by supporting solar lamps. Now, after the distribution of the solar lamp, solar generator and solar battery, education of coastal areas school students' has improved. More than three thousand coastal families of the Sundarbans coastal region union are now using renewable energy.
Feedbacks from the beneficiaries:
A supported school going children express his feelings ''Now I can go to the schools. I can read and write with the help of Solar lamp. This Solar lamp is blessing for me. My parents always try to give their best to educate me. But due to poverty they can hardly purchase Kerosene for my education purpose. With the support of this solar lamp, I can read at night. Some of my friends are going to drop out from schools as they can't study at night for increased price of kerosene. ''
We would like to thank all our donors for being so kind to us and we hope that our kind hearted donors will spread out their helping hands for the betterment of the underprivileged coastal students by starting monthly recurring donations;
https://www.globalgiving.org/projects/change-life-through-supporting-a-solar-lamp?show=recurring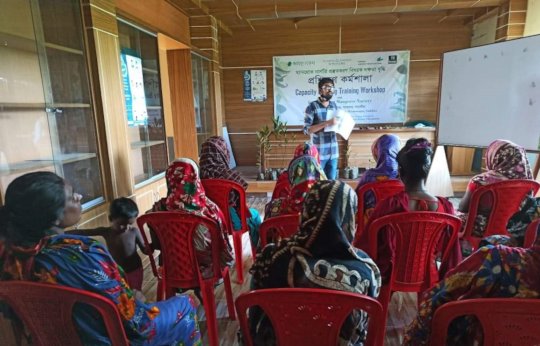 Mangroves are important for life and livelihood of the coastal community. BEDS (Bangladesh Environment and Development Society) has been working for restoring mangroves since 2013. Till now BEDS has planted 2,70,000 mangroves in the Sundarbans coastal region.
BEDS has established 5 nurseries at Pashcim Dhangmari village (under Dacope sub district of Khulna district) and one nursery at Mathurapur village (under Shyamnagar sub district of Satkhira district) with the help of coastal community to improve their socio-economic condition.
Mangrove nursery has become popular in the region adjacent to Sundarbans. So BEDS arranged a capacity building training program on mangrove nursery establishment at Mathurapur village. Local 25 women participated in the training program. After the training program, they all practice soil preparation and polybag preparation process. In the training program, they learned the proper way of establishing mangrove nursery. Plant spaling, planting process, intercultural operation, shading facilities of mangroves and proper management process of mangrove nursery.
One of them said, "Mangroves save us from natural disaster. Now we will make mangrove nursery, will produce more and more mangrove saplings. Thus our environment will be good and we will be able to improve our economic condition."
We are requesting all our donors to start monthly recurring donation. Please click the following link; https://www.globalgiving.org/projects/changing-life-by-empowering-women/?show=recurring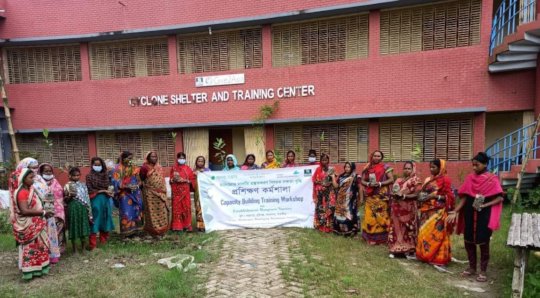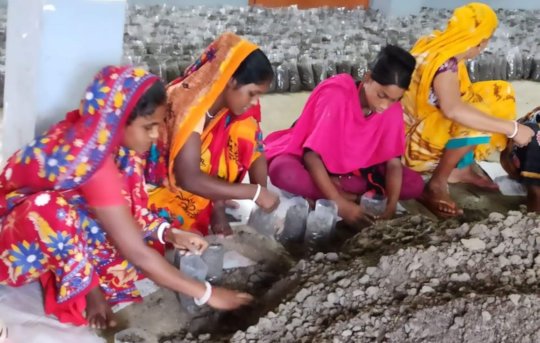 Bangladesh is a low-lying country. Here water is everywhere but pure drinking water is scarce in the Sundarbans coastal region of Bangladesh. During the monsoon rain water is used for drinking and people store water for the dry season. But this is not sufficient for them. In the monsoon water level raise high and water sources go down under saline water. As a result people suffer a lot for drinking water and by using this water, they suffer from various kinds of water contaminated diseases.
Initiative:Bangladesh Environment and Development Society (BEDS) has been working since 2015 to alleviate the drinking water crisis in the coastal areas. In the meantime, the pond has been re-excavated and by using local technology pond sand and filter (PSF) system has been installed to collect rain water. Reverse Osmosis Water Purification System has been set up to enhance the quality of water. A community-based sustainable water business model has been introduced for its sustainable and long-term management. During this covid-19 pandemic situation people have to stay home and in this circumstances BEDS is supplying safe water to remote areas by vehicles. BEDS has installed 16 water wells in the coastal area and planning to install another 20 water wells to remove drinking water crisis for the coastal people.
Impact: Most of the people of the locality used pond water for drinking and cooking purpose. Women spend most of their time by collecting water far from their residence. By using this water, they often suffered from various kinds of water contaminated diseases like diarrhoea, cholera, Jaundice, dysentery etc. Pure drinking water was a cherished desire to them. After installing the Reverse Osmosis System, more than 10000 coastal villagers are getting safe drinking water at a cheap rate which is only 0.5 TK per liter. This little charge is taken for the maintenance cost of water production so that this activity will sustain in the long run process.
Feedbacks from the beneficiaries:A man who is engaged with water distribution service expressed his feelings – "Before I didn't have any work and I couldn't maintain my family. I have adequate knowledge of operating machines so BEDS has engaged me for water production. Here I got trained for several times and learned how to operate the system smoothly. Now I earn my livelihood by the water service business."
We would like to thank all our donors for their amazing and continuous support for the coastal deprived people. We are requesting all our donors to start monthly recurring donation by clicking the following link;
https://www.globalgiving.org/projects/support-drinking-water-to-the-poor-coastal-people?show=recurring
WARNING: Javascript is currently disabled or is not available in your browser. GlobalGiving makes extensive use of Javascript and will not function properly with Javascript disabled.
Please enable Javascript
and refresh this page.