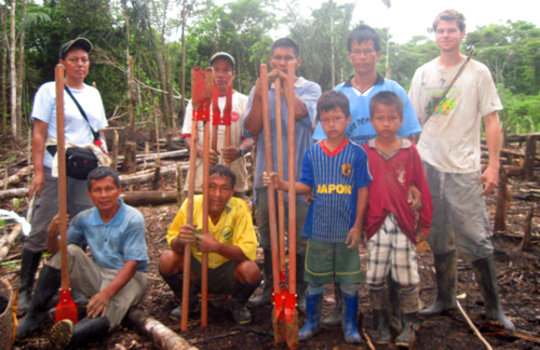 February 24, 2013
Dear CACE Ampiyacu Project supporter,
It is my pleasure to share our first report via GlobalGiving on the progress of our project to create sustainable livelihoods and promote forest conservation with native communities in the Ampiyacu River region of the Peruvian Amazon.
One very welcome development is the completion of a community pharmacy in the Bora village of Brillo Nuevo. Project manager Yully Rojas was on hand when the simple wooden structure built with funds from CACE sales of crafts from the village's two dozen artisans was being painted. The next step will be to stock it with its first batch of medicines and recruit a health-care worker to staff it.
Artisan Ines Chichaco summed up her feelings about this milestone, "I started weaving bags and hammocks when I was twelve years old, but since CACE started working in Brillo Nuevo five years ago, I've learned to weave new crafts like belts, hotpads, and guitar straps. Even more important, working with them has made me improve the quality of my work and sell more crafts. This money has helped me to better educate my children and buy rice, soap, sugar, kerosene and other things I need in my house. The project has now helped us build a community pharmacy so a member of my family or anyone from the village can get medicine right away if they get really sick."
The other exciting development in Brillo Nuevo on February 8 was the arrival of 900 rosewood tree seedlings after a two day journey by truck, large ferry, and speedboat from a government nursery in Jenaro Herrera on the Ucayali River. The five families who had won a share of the first batch of aromatic trees in a village lottery carted the seedlings packed in planting bags in dugout canoes and baskets on their backs to their respective fields prepared for this special kind of reforestation. Our partner Robin van Loon from the NGO Camino Verde that co-sponsored this project showed them how to plant and care for the slender seedlings. Yully Rojas also lent a hand so she can help the families keep an eye on the young plants. If all goes well, they will grow into trees large enough to sustain a modest harvest of leaves in three to four years. We will then work with the plot owners to distill these leaves into marketable fragrant essential oil. Our next step will be upgrading our distillation equipment to get the best yield and quality and make contacts with potential buyers.
The final note is that CACE sales of crafts made by the 100 plus artisans in our Ampiyacu partner communities almost doubled from 2011 to 2012. Christmas tree ornaments made by Bora men and Huitoto women from the village of Puca Urquillo were very popular this season. Most of these ornaments that doubled as hand-rattles were dark-brown egg-shaped pods of calabash trees etched with figures of Amazon toucans, jaguars and other jungle animals. An alliance with Tait Trees, a family-owned cut your own Christmas tree business in Boalsburg, PA, allowed us to display our ornaments in their gift shop and keep all of the sales. We will soon meet with the Puca Urquillo community to discuss how they wish to use their 20% share of sales from almost 300 ornaments. As craft sales increase with all of our partners, we want to expand our surveys of chambira trees and support greater planting of these palms that provide the fiber used in almost all woven crafts.
If you would like to support our project again, one great day to do this will be Wednesday March 15 when GlobalGiving will provide a 30% match to donations (up to $1,000 per donor) made on-line beginning at 9 AM until available matching funds are spent.
Thank you very much for your interest and support for our project. Please feel free to contact me with any questions, comments or ideas at cplowden@amazonecology.org.
Best wishes,
Campbell Plowden
CACE Executive Director and Project Leader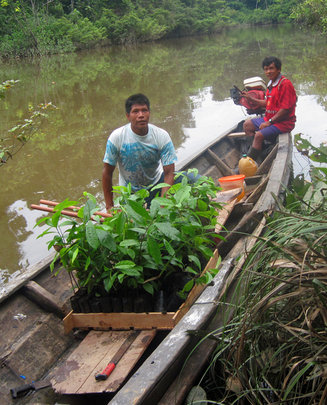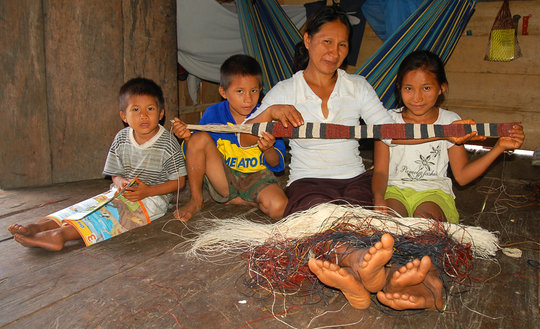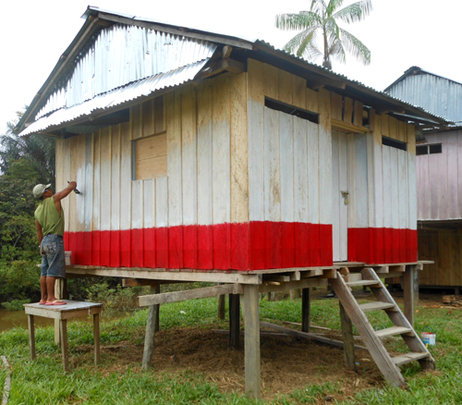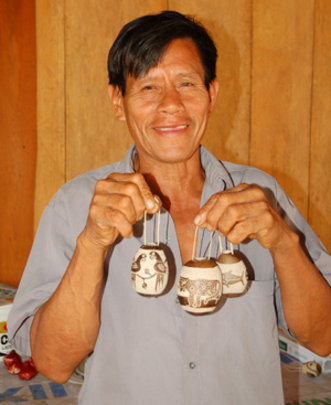 Links: