Living with the Gifted Ones!
Last three months for JAAGO Foundation is a story of hunting down extraordinary talent from a place that very few is ready to look into. We believe in the unusually gifted children we are blessed with and their natural flair, confidence and enthusiasm to learn, share and explore. JAAGO elicits its drive from these exceptional yet innocent individuals to fight and work harder in spite of the daunting experiences it has to face! It is passion and love for these deprived children that keeps us moving. We welcome everyone who shares this value!
The Portable School
Re-construction of Karail School
Running a school in slum areas in developing country implies agreeing to the reality of forced eviction from time to time. Facing such vandalism resulting in a smashed down Karail School September last year prompted JAAGO Foundation to come up with an innovative and sustainable solution that would let them go on despite such mayhems. With the design from Suvastu Development Limited and financing from GraphicPeople the organization put up portable classrooms this September in JAAGO Foundation School in Karail. With an uncomplicated design and available materials these classrooms can be taken down and re-constructed in only a few hours without any professional help or tools. The volunteers of Volunteer for Bangladesh, our concern organization was in charge of the whole process.
Corporate Volunteerism
Our Rapport with SCB Goes On
Standard Chartered Bank (SCB), Bangladesh is a long time supporter and well-wisher of JAAGO Foundation. Besides having their employees as our regular volunteers SCB has also contributed in constructing one of our reception classrooms, redecorating the library and painting the classrooms. In last three months our partnership has grown stronger through the generous donation of one-day salary of each SCB employee; their presented stationary items and small gifts like stickers, hair bands and chocolates; and providing of Safety Training Program for JAAGO kids on handling household dangers.
The Joy of Learning
Two More Sessions on Environmental Awareness
Our effort to make our children learn and love the nature still holds on! Ms. Remeen Firoz with her fun and interactive techniques conducted two more sessions in Rayer Bazar and Karail within last two months. Topics included weather and climate, food pyramid, preparedness for disasters, natural calamities such as earthquake, flood and rainfall, as well as issues like changes in migration and flowering pattern and the vulnerability of coastal areas. In an effort to make the session more effective Ms. Firoz encouraged the children to bring out their own experience and learning and connect them with the new information as well as blended colorful pictures, questions, and information to stir their imagination and enthusiasm.
Building Leadership
Celebrating International Day of the Girl Child
In October this year JAAGO Foundation partnered with Garden of Hope (GoH), a leading non-profit organization and a change-maker advocating the rights of the disadvantaged women and girls, in celebrating the 'International Day of the Girl Child' and '2012 Asian Girls Campaign'. The event to celebrate 'International Day of the Girl Child' opened for an avenue that helped bring out the incredible leadership talent among JAAGO kids. As part of the program a number of students in JAAGO Foundation were given to conduct three workshops for their counterparts in three other schools in the locality - SAFE School, Zafrabad Adorsho School and Chetonabikash. The workshops turned out to be a pride for JAAGO Foundation with its students showing higher skill for motivation and leadership as expressed in leading the session on girl child awareness. The program was later followed by a cultural performance by JAAGO children which basically was a musical drama on the theme of "Girls Life Transformation" that conveyed the same message on the rights of girl child earning higher appreciation.
Health Issues
Hand-Washing Campaign with Lifebuoy
The 'Lifebuoy Hand-Washing Campaign' with participation from 60 students of Standard-I was held at the JAAGO Foundation, Head Office on December 1, 2012. The campaign was divided into four segments: hands on learning about the proper way to wash with soap; a few hours of interactive quiz session; display of a special episode of 'Meena' Cartoon on cleanliness and hygiene; and special demonstration by volunteers. Members of Volunteer for Bangladesh, the volunteer wing of JAAGO Foundation, with help of a UV light demonstrated germs that cannot be seen with naked eye, in an effort to make the learning more effective and fun for the children. The campaign ended with awards for children participating in the quiz test and the students taking an oath, along with the volunteers, regarding washing their hands regularly with the proper technique.
Eye-Checkup for JAAGO kids
Special Eye Camp for the students of JAAGO Foundation School, Rayer Bazar Branch on October 11, 2012 and for the students of Karail branch on October 18, 2012 by specialist doctors was part of JAAGO program for World Sight Day. The children received regular-check up and medicines and spectacles were provided to those who needed them. The programs were facilitated by Standard Chartered Bangladesh (SCB) and Beximco Pharma.
Our Very Own Boogie-Woogie!
Amra Shobai Raja, Amader ei Deshe
With their indomitable spirit, JAAGO kids promise to dance all the fears away and hail everything novel and beautiful that the six seasons have to offer. Nritto Dhara has been with them in this journey. JAAGO Foundation, along with Nritto Dhara, arranged a dance program titled "Amra Shobai Raja Amader Ei Deshe" on Friday, October 12, 2012 with participation from more than 90 students from JAAGO Foundation. Supported by the American Center, the dance program paid tribute to six seasons of Bangladesh. The little dancers with their talent dazzled the audience including the renowned Dancer Munmun Ahmed.
Bringing Rhythm to the Food Fest
After the "Amra Shobai Raja Amader Ei Deshe" program and 2012 Asian Girls Campaign musical drama performance, the little dancers from JAAGO Foundation again mesmerized the audience with their extraordinary flair for dancing in Bangladesh Food Fest 2012. The three-day festival brought all the favourite restaurants of the capital in one place with the sumptuous and mouth-watering food and served along with it the startling cultural performance of JAAGO kids.
A Last Note!
JAAGO Foundation is always grateful to those whose generous support and donation keeps the flame of our spirit alive! And we welcome more people to be part of our family. If you feel to believe in the cause we work for and want to help, you can visit our 'Sponsor a Child' and 'GlobalGiving Project Report' page and decide on your ways of contribution. You are even welcome at our home in Rayer Bazar, Dhaka and meet these wonderful children!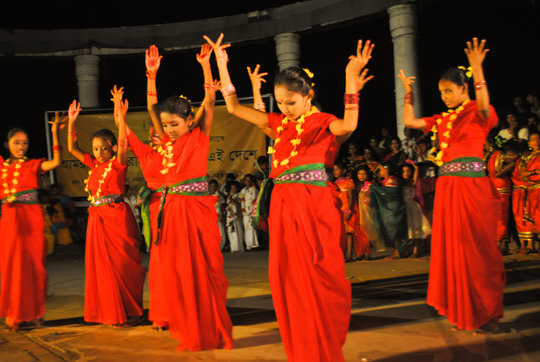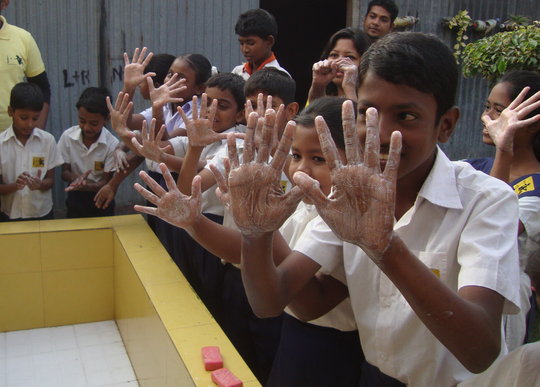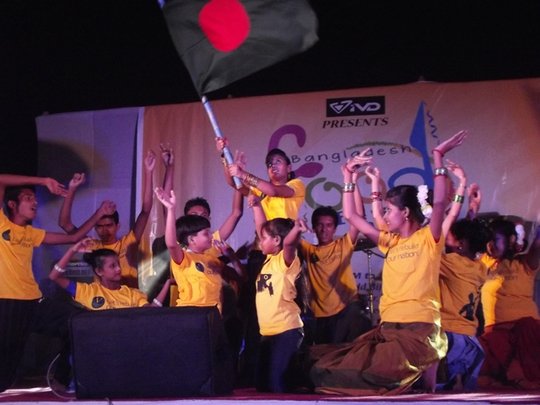 Links: